Madison-Genesis to make international debut in Majorca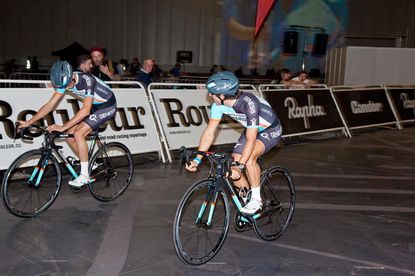 Britain's new UCI-ranked team Madison-Genesis will face a baptism
of fire when it lines up against the likes of Sky and Garmin-Sharp at
the Challenge Majorca series at the start of February.
The race, which will be the team's international debut, comprises of four-consecutive, one-day races around the island (February 3-6). Following that, the squad's riders will stay in Majorca for their 2013 training camp.
CW will be going behind the scenes with the team during the race and training camp for a look into how the new team are preparing for the season.
They are not alone when it comes to impressive early-season invites. Team Raleigh has received an invite to the Tour du Haut Var in southern France, which was won in 2012 by Britain's Jon Tiernan-Locke when he was riding for Endura Racing.
Having competed in the Bay Crit Series and Jayco Herald Sun Tour at the start of the year, the majority of Rapha Condor-JLT's line-up for this season will remain in Australia until mid-February as they prepare for the season.
Boosted by several new signings, including stage winner in last year's Tour of Normandy Ian Wilkinson, Team UK Youth are hopeful of expanding its European programme in 2013, and IG-Sigma Sport are also targeting invites to a number of northern European races.
RIP Peter Jacobs
Peter Jacobs of the Archer RC passed away on January 14 after a six month illness, Cycling Weekly has been informed. He was 77.
Jacobs was one of the founding organisers of the Archer GP in 1956 and was a vital part of the organising team over the next half a century before he retired to France.
He also pioneered cycle coaching for school children, first at Paddington and later at Calshot velodrome on the south coast.
Raleigh launch 2013 team
A brand new kit for Raleigh-GAC was unveiled last week as the 14-man team was launched at the bike manufacturer's headquarters in Nottingham.
The black and white design is a departure from the primary colours of 2012, but then so is the squad. Only four riders remain from last season including Tour Series round winner Graham Briggs, while eight new riders have joined the team over the winter.
Top of the new recruits are former Endura and Cofidis man Alex Blain, who won the Maldon Dengie Tour last season, former Academy riders Mark Christian and Tom Moses, and ex-Rapha rider Rich Lang.
Raleigh-GAC 2013 squad: Graham Briggs, Russell Hampton, Evan Oliphant, Matthew Holmes, Alexandre Blain, Richard Lang, Lachlan Norris, Sam Witmiz, Mark O'Brien, Rob Britton, Tom Scully, Tom Moses, Mark Christian, Eric Berthou.


Picture: Andy Whitehouse
Rawnsley recognised
3 Peaks organiser John Rawnsley has been awarded the highest honour of Yorkshire cycling, the CA Rhodes Memorial Lifetime Achievement Award, only the second ever to be bestowed.
Although he will step down from the role in 2013, Rawnsley has organised every single edition of the classic, gruelling cyclocross race through the Yorkshire Dales, winning the first one himself in 1961.
Rawnsley (c) bowed out after organising his 50th 3 Peaks last year
As well as a committed race organiser across the region, he also nurtured a generation of Yorkshire's riders. Many of them will happily recall his no-nonsense approach to training and racing, including winding all the windows down when driving to winter races to help riders 'acclimatise.'
The award will be presented at the Yorkshire Cycling Federation lunch on February 24.
>>>CTC women's racing team launches>>>
>>>Glasgow to host 2013 British road and time trial national championships>>>
>>>Ian Bibby wins ianugural IG London Nocturne>>>
New bike show for Norfolk
A Norfolk cyclist has organised a brand new cycle show for the county that will take place for the first time next month at the Forum in Norwich.
Among the attractions at the Norfolk Cycle Show will be an open Q&A session with former Team Sky directeur sportive Sean Yates. Luke Rumbelow is the creative force behind the event.
"This is a unique event for Norfolk," said Rumbelow. "You would normally have to travel to the NEC or London to attend a bike show, and I wanted to create an event that is free for people to attend, and an opportunity for beginners to pro cyclists, as well as families to embrace all that is good with cycling in Norfolk."
For more information, visit www.thenorfolkcycleshow.co.uk (external link).
RIP Sid George
Cycling Weekly has learned of the death of former Milk Race commissaire Sid George, who passed away due to cancer, aged 91.
Yorkshireman George coached a number of riders throughout his career and was also an early anti-doping official for the British Cycling Federation. Founder of the Brook CC and Sheffield Schools Cycling association, George was committed to grass roots cycling.
His son Kim will be undertaking a sponsored ride of his father's favourite cycling routes to raise funds for Sue Ryder cancer hospices.
TopTube
Ever wondered what riding a team pursuit looks like? Thanks to Andy Tennant, Great Britain's endurance squad and a fitted video camera, now you can find out.
Get in touch
We want to hear what's happening in your area - from racing results to sportives, recreational cycling to commuting. To submit your stories for CW's British news round-up, please email Nick Bull or Richard Abraham
Thank you for reading 20 articles this month* Join now for unlimited access
Enjoy your first month for just £1 / $1 / €1
*Read 5 free articles per month without a subscription
Join now for unlimited access
Try first month for just £1 / $1 / €1