Why have so many riders suffered spinal fractures this season?
We spoke to osteopath Alice Monger-Godfrey about vertebral compression fractures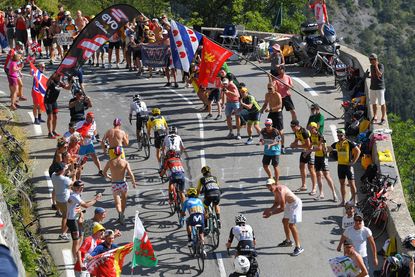 Broken collarbones, ribs, elbows, wrists: there's a catalogue of body parts that - whilst we wouldn't wish it upon anybody - we become quite immune to cyclists breaking.
Chuck in 'spine' and the immunity ends.
This season alone we've watched on as the likes of Vincenzo Nibali (Alpe d'Huez, Tour de France, vertebrae fracture), Tony Martin (stage eight, Tour de France, cervical vertebra fracture), Matteo Trentin (Paris-Roubaix, thoracic spine fracture), Pierre Latour (Clásica San Sebastián, vertebrae fracture) and Mikel Landa (Clásica San Sebastián, lumbar vertebra fracture) have hit the ground, all doing damage to their backs along the way.
Martin was forced to miss out on the Deutschland Tour in August, for fear of complications - saying: "[it] would be fatal if I crashed on my back again and did even worse damage."
Nibali was able to return to racing, but he's been losing time in the mountains of the Vuelta and has expressed serious concerns for his future, stating: "My back still gives me problems and I can't do much more as long as the situation is like this.
"I'm also worried for the future. The question is will it return to the way it was before the incident? I don't have answers that can satisfy me."
The seriousness of spinal injury
The adult human spine contains 24 vertebrae, as well as the sacrum and coccyx - so 26 bones in total come together to form a fully grown spinal column.
"Spinal fractures take a lot more out the body. The spinal cord, in essence, keeps us alive. So everything will just go into complete lockdown to prevent that from being damaged," says ex-pro and osteopath Alice Monger-Godfrey.
"In an ideal world most compound fractures heal in around eight to 10 weeks – but if there's been a big spinal compression fracture, there may be surgery which can prolong it from weeks to months."
"In my experience, cyclists recover quite quickly from collarbone fractures – but spinal fractures take a lot more out the body. The whole body goes into a bit of a traumatic shock. It's a completely different story," says the founder of AMG Clinics.
"You can't take lightly a vertebral fracture. At the neck you've got issues with the nervous system up at the top, and the head. That's why people always apply a neck brace straight away if there's any risk. If a vertebra is caught in the cervical spine, that can cause paralysis.
"With the lower back, the same applies but affecting the lower half of the body – if a vertebrae is fractured at any level it can affect the nerve coming out at that point."
"The body just protects the spinal cord. That's what in essence keeps us alive."
Why so many spinal fractures?
There's been some discussion around the impact race radios could have in the event of a crash and whether they may contribute to the risk of a spinal fracture.
Monger-Godfrey, who has worked as an osteopath for WorldTour team Dimension Data, doesn't think there's enough evidence to link the two.
"If you look at it from a logical point of view, it's more about how you fall: where you crash, what you crash on to. I would think in some cases the race radio would provide more protection than damage" she says.
She reckons number of spinal injuries we've seen this season is basically a coincidence, but she does believe that certain factors can increase the likelihood.
"A lot of the time crashes are worsened by how people fall. Sometimes you see riders just 'flop' which means they're less rigid and there's less impact on the bone."
She uses the example of Mark Cavendish's crash at Milan-San Remo, "it looked serious – he just layed on the ground like a rag doll, but he actually came off very well, considering the nature of the crash."
"From my experience, often when it happens quickly, the rider comes back mostly unscathed. The ones where the rider could pre-empt it, they sometimes come off worst because they become very tense."
Bone health in pro riders
Rider health comes in to it too. Cycling is not weight bearing, and it rewards low body weight due to the heavy bias climbers place on the latter in the power-to-weight equation.
"There is an element where as a cyclist you're more likely to have a compound fracture because your bone health is not as strong as athletes in other sports," Monger-Godfrey explains.
"Running and weight bearing exercises are very good for osteogenic stimulation – the formation which keeps our bones healthy and strong. In cycling you don't get that.
"Cyclists at pro level want to have low body mass; there's restrictions on nutrition and that obviously has an effect on your endocrine system which stimulates and helps bone health."
>>> Here's how to stop cycling leading to unhealthy bones
The osteopath notes that amateur riders are often less restrictive in their diets and complete other forms of exercise. Her advice for those at risk is that they use the off-season to focus on their bone health.
"In the summer, racers will only cycle. Anything else would be disruptive. But they could look at integrating some running, or something with a weight-bearing element, within the winter. And maybe eating a little bit more over winter so the low weight is less of a factor."
For those keen to keep a focus on the bike, she suggests cyclocross - but with emphasis placed on the running element.
"It won't prevent the trauma of crashing – that's part and parcel of cycling and it's the nature of the beast unfortunately. But it may just allow that your soft tissue takes the pressure of it and the bone is stronger so that it can withstand more forces."
Don't touch a fallen rider
Bahrain-Merida has said it is perusing charges against Tour organisers ASO, following the crash after which they say a fan tried to pull Nibali back up.
"The fan wouldn't have done it with malice… but after any crash, you do not know if there has been a fracture or nervous damage. The second you move someone that could cause a life changing injury," says Monger-Godfrey.
"There's times where if a rider got up they could have been paralysed for life. It's so unlikely and extreme, but its not worth the risk," she says.
"A rider can choose to get up. They're grown men and women. But if they're not getting up, you don't want them to be moved until medical professional help is there because of the risk of causing greater damage."
Thank you for reading 20 articles this month* Join now for unlimited access
Enjoy your first month for just £1 / $1 / €1
*Read 5 free articles per month without a subscription
Join now for unlimited access
Try first month for just £1 / $1 / €1