Mark Cavendish unfazed by arrival of Rigoberto Uran at Omega Pharma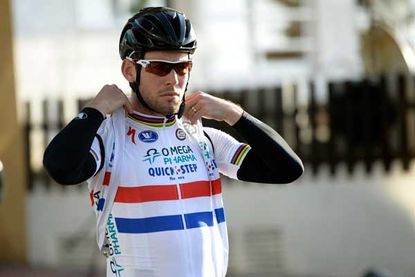 Mark Cavendish, speaking to the press at the Omega Pharma-QuickStep media day in Calpe, Spain, insisted that he "was in the best position now and I've been incredibly lucky that the team have put the financial commitment in to sign me and then secondly have the confidence in me to sign the two best lead out men in the world, that's Alessandro Petacchi and Mark Renshaw. I can definitely sit here and say I'm the luckiest sprinter in professional cycling," said Cavendish, evenly.
Cavendish - along with Tom Boonen and world time trial champion Tony Martin were on call to take part in television and print media duties and, as usual with Cavendish, there was never a dull moment and he bristled when it was put to him (by a Belgian journalist) that he had had problems last year.
"I won five stages of the Giro, I won the red jersey in the Giro, I won races from January to September apart from when I had a break in April. I'm super happy with my season last year. Omega Pharma won four stages of the Tour last year and people tend to forget that."
And neither is Cavendish concerned by the arrival of Rigoberto Uran as the team's first serious Grand Tour contender. The dove-tailing of a team designed to protect a rider like Uran in the mountains and provide a serious lead out train for Cavendish in the sprints is not an easy task - as Cavendish discovered at the 2012 Tour de France when he rode for Sky. Was he worried about Uran's arrival compromising his job in Grand Tours?
"Omega Pharma is the most established team in World cycling, it's been around for many years and been successful for many years. We've got a clever group of people working here and they know how to pick a team to do a job and I think the right decisions will be made - they always have been, the team has always won a big race. Uran is a great addition to the team and we have so many combinations of nine riders that we can use to be successful in races but all I know is that I have to be in the best condition when we get to July."
And, inevitably, part of that process of getting fit and ready involves training camps. "We have a good laugh, it's funnier, it's like a family and everybody has a good time. It feels like you are at a camp with a group of friends. But --," concluded Cavendish, "--but do you know what would make them better? Not having to do this shit!"
Cavendish, easily bored and with a deadpan sense of humour, ended his press duties with a bang and a laugh. Here's hoping the non-English speakers got it.
Twitter: @KenBobPryde
Related links
Cavendish 'super-excited' about home Tour de France start
Thank you for reading 20 articles this month* Join now for unlimited access
Enjoy your first month for just £1 / $1 / €1
*Read 5 free articles per month without a subscription
Join now for unlimited access
Try first month for just £1 / $1 / €1