Mark Renshaw could re-join Mark Cavendish at Omega Pharma next season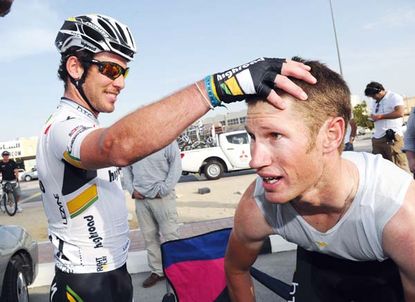 Mark Renshaw is set to undergo collarbone surgery a year to the day of his first stage win as a marquee sprinter with Blanco as he weighs up team options ahead of next season.
Renshaw was the hardest hit in a huge stage two crash at the Tour of Turkey yesterday in which he suffered a badly fractured collarbone, concussion and lost a tooth.
Despite his victory at the same race last season - which notably fell on ANZAC Day, a revered time of remembrance in his native Australia - the 30-year-old was set to reprise his role as lead-out man this week working for Dutch teammate Theo Bos.
Renshaw's current contract with Blanco ends this year and he confirmed to Cycling Weekly on Saturday he as not as yet re-signed with the outfit. In this week's Cycling Weekly magazine, out on Thursday, Renshaw reveals he has three "good" offers to consider.
He left the service of Mark Cavendish, who he assisted so famously at HTC-Highroad, at the end of 2011 to join Blanco and chase his own opportunities.
But what he initially envisaged has not eventuated, and may not. He said the team is "working hard" to build a sprint train around Bos.
Renshaw has moved between sprinter and pilot at Blanco and which direction he pursues going forward is set to largely influence his contract considerations.
"There's good options for both, which is comforting," he said.
"There's always a lot to consider because the last decision I made as quite a big one and quite a big change. The next one will be just as big I think."
Omega Pharma-QuickStep sports director Brian Holm in the CW article addresses rumours of Renshaw possibly returning to his role as pilot to Cavendish next season.
"He's end of contract so even a blind man could see we would like to have him but at the end of the day it's up to numbers," said Holm. "It's always a matter of how much is in the bank account when you quit cycling. But I could imagine Renshaw personally would like to come back with Cav. He's very good for Cav."
It's not clear how long Renshaw will be sidelined for. He was not going to race at next month's Giro d'Italia in which Blanco will ride for general classification hope Robert Gesink. Renshaw started the Tour de France last season but was virtually left to fend for himself in sprint stages with Gesink the main focus.
"I guess it depends how their results go there [Giro] to the make-up in July," Renshaw said.
"I'd definitely like to go back there [Tour] because I still think I have a chance, but I need a little bit more support to be successful.
"I still want to improve a lot. There's still work to be done. [Blanco] made a big step this year and we've seen it in results throughout the start of the season -we've been a lot more successful and riding a lot better as a team. The changes they did over the off-season were good. They worked a lot on the team building."
Blanco is Renshaw's fourth career trade team. He has represented French outfits FDJ [2004-2005] and Credit Agricole [2006-2008], Highroad [2009-2011] and his current Dutch squad.
"They're all very different teams," he said. "It's hard to compare any because you have French mentality, Dutch mentality here, and Highroad was just a big mix. That's probably why it worked so well."
Bos as well as Jonas Van Genechten did not start today's third stage at the Tour of Turkey effectively crippling the sprint team Blanco sent to the eight-day race.
Twitter: @SophieSmith86
Read Cycling Weekly magazine on the day of release wherever you are in the world with our iPad and iPhone edition - International digital edition, UK digital edition. And if you like us, rate us
Thank you for reading 20 articles this month* Join now for unlimited access
Enjoy your first month for just £1 / $1 / €1
*Read 5 free articles per month without a subscription
Join now for unlimited access
Try first month for just £1 / $1 / €1