Max Sciandri will not take Italian national team job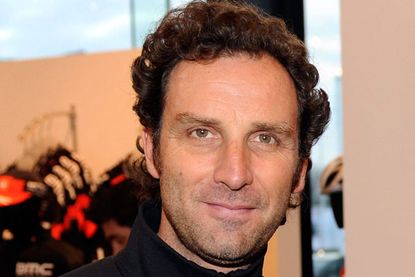 Max Sciandri quit the Italian national team project as fast as he joined, renouncing the sports director role yesterday in an e-mail. He will remain working with riders like Taylor Phinney and Adam Blythe at team BMC Racing.
Sciandri told Cycling Weekly this morning, "We were moving forward but there was no starting point."
The 46-year-old was named as Paolo Bettini's replacement over the winter. He was to assume the role part time after the Giro d'Italia and full-time after the Florence Worlds in September. The move would leave Bettini to become general technical manager and oversee the entire programme with attention on the juniors.
After several months of back and forth, Sciandri pulled the plug.
"It was a dream. I touched it and I'll let it go and stay with BMC," said Sciandri.
"Bettini said it's about the money. I told Bettini it wasn't about the money, we never even talked about my fee or my contract. Ideas are for free, we have tons of ideas. We were moving forward, but there was no starting point."
Bettini took over in 2010, in time for the Geelong Worlds in Australia following Franco Ballerini's death. His €100,000 annual contract ran through the London Olympics last summer.
Sciandri added, "When I was 16 and Ballerini was 19, we knew each other. He was an amateur and I was a junior, and I said it's just a way to carry on his ideas and Bettini was a little bit pissed about it."
The two split on bad terms.
"I gave him a chance to work with me on a press release, to try to filter it," Sciandri said. "I told them that more than that, I can't do. Someone's going to be unhappy."
Bettini is expected to go ahead with his restructuring plans and to name someone else. RadioShack's general manager, Luca Guercilena is rumoured to be a possible candidate.
Related links
Max Sciandri proposed as new Italian national coach
Thank you for reading 20 articles this month* Join now for unlimited access
Enjoy your first month for just £1 / $1 / €1
*Read 5 free articles per month without a subscription
Join now for unlimited access
Try first month for just £1 / $1 / €1