Naked Bike Rides take place the world over - here's why
The global phenomenon is an act of protest for some, a celebration of body positivity for others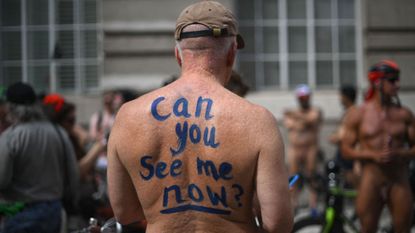 (Image credit: Getty Images)
The chants of "Less gas, more ass!, "Nude, not rude!" and "We are traffic" echoed through the Chicago streets on the evening of June 24, 2023, as the annual World Naked Bike Ride rolled through the city.
Bikers, rollerbladers and scooters filled the roads as spectators cheered and sneaked photos and videos. Those stuck in the resulting traffic jam honked, and were left puzzled as to why these riders were cruising around town in the nude.
Chicago resident Brad Emn has participated in Chicago's WNBR for seven years now. As an avid cyclist and environmentalist, Emn's two worlds collide in this annual ride.
"The way transportation and the way the environment is working with less fossil fuels and being more efficient and sustainable in cities in particular is important, bikes being one of those and doing things to be more efficient," Emn tells Cycling Weekly.
For Emn, the ride is as much a call for a greener future as it is a community builder.
"Everyone [here] has these values that are trying to work towards different things such as equality, sustainability, and respect for the community and coming together," he says.
The World Naked Bike Ride (WNBR) is an international clothing-optional bike ride in which participants organize, gather and ride collectively on human-powered transport in an effort to "deliver a vision of a cleaner, safer, body-positive world."
Terrain Magazine traced the origins of the World Naked Bike Ride to Conrad Schmidt, an activist and filmmaker who rode naked in 2003 in Vancouver, British Columbia.
Today, organized clothing-optional rides are found in all seven continents of the world and take place in many different cities and countries throughout the year, according to this map. Each WNBR event has its own traditions and reasons why cyclists decide to participate.
In Seattle, Washington, the Fremont Solstice Parade has been celebrating the year's longest day for more than 25 years. And from the start, people in various states of nudity and body art have been leading out the Parade on bicycles since its inception. The ride has grown in popularity over the past ten years and established itself as a major cultural phenomenon in our city.
On the same weekend in Chicago, folks gather in the nude to support body positivity and independence from fossil fuels.
The latter is also central to London's WNBR. In various parts throughout the British capital, hundreds gather with slogans such as "Energy Is Renude" painted on their backs as they ride naked through the city streets. Other slogans include "Burn Fat Not Oil," and "Less Gas More Ass."
These rides protest against the global dependency on oil, and call for the curbing of car culture and road rights for cyclists. In doing this nude, the riders hope to demonstrate the vulnerability of people on bikes while also celebrating body freedom. It also, inevitably, draws attention, which is exactly what the organizers want.
While the naked bike ride is largely just stunt, organizers rely on our photo-snapping and virtual documentation tendencies to spread their body painted messages on social. It's here, on the internet, where the real activism and community fostering is meant to take place.
Sure enough, a quick online search brings up an active #worldnakedbikeride hashtag on Instagram and TikTok. Most #BikeToks on this subject aim to educate people about this mini "Tour de France without pants."
Globally, these organized naked bike ride events take place annually in Australia, Austria, Belgium, Brazil, the Virgin Islands, Canada, the Czech Republic, Finland, France, Germany, Italy, Israel, Japan, Latvia, Mexico, the Netherlands, New Zealand, Peru, Poland, Russia, South Africa, Spain, Switzerland, and the U.K. While the exact message of protest or demonstration may vary, the naked bike riders form a global community unified in the hope of a cleaner, safer, body-positive world in which the bicycle plays a central part.
Thank you for reading 20 articles this month* Join now for unlimited access
Enjoy your first month for just £1 / $1 / €1
*Read 5 free articles per month without a subscription
Join now for unlimited access
Try first month for just £1 / $1 / €1