NetApp-Endura preparing to take on the WorldTour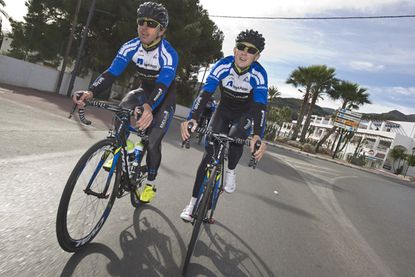 Based at Mojacar in Spain, the final NetApp Endura training camp before racing starts, Brits Russell Downing, Jonny McEvoy, Erick Rowsell and Scott Thwaites were settling in to the new German-Anglo team.
The quartet had a week to fine tune the set up on their new Fuji bikes and team issue Speedplay pedals. In addition, they were getting to know their new team mates' names, if not their strengths and personal quirks.
The first training camps are a bit like a blind date, you never know who you are going to end up sharing a room with. But it's all part of the game, even if, according to McEvoy, the days of half-wheeling and "going out to try to smash your new team mates for four hours doesn't happen at Pro Conti level, everyone here knows there's no point in that, it doesn't help anyone."
Downing, at 34 the most experienced rider on the team, was unperturbed, which isn't surprising since he's been a pro bike rider for 15 years. "This is the first time in my career I've signed a two year deal, so I'm used to chopping and changing every other season," noted Downing, "though I was pleased to sign for two years, not just because I'm getting older, but I want to bring as much to the team as possible."
For the three younger Brits, all still under-23 (Rowsell 22, McEvoy 22, Thwaites, 22), NetApp Endura, as a Pro Continental team, represents a step up, re-casting them as smaller fish in a much bigger pond. 2012 Premier calendar champion Thwaites is now in Argentina racing the Tour de San Luis with McEvoy (with Thwaites 10th on the stage two sprint), while Rowsell will start his season later in the Tour of Qatar.
No rain in Spain for NetApp Endura
Alex Sans Vega, the Endura directeur sportif who is now one of three DS's with the new team declared himself happy with the early season training. "It's been useful to see how the NetApp guys are and we've introduced a lot of the early season training sessions that worked for us (Endura) last season." It's safe to say that the Brit contingent more than held its own when the going got tough - not that anyone was point scoring!
Now it's down to the riders to see whether they can produce the same early season results that saw the Endura team get off to a flyer in 2012. "It's important for us to get strong early results," noted Vega, "to give us a better chance of wildcard invites."
Having lost out to Italian teams in the 2013 Giro d'Italia wildcard invitations, the NetApp Endura got an early-season boost with an invite to the Criterium du Dauphine, the increasingly high-profile pre-Tour stage race organised by Tour owners ASO.
Erick Rowsell and Scott Thwaites, two of the British contingent in the German team
Twitter: @KenBobPryde
Thank you for reading 20 articles this month* Join now for unlimited access
Enjoy your first month for just £1 / $1 / €1
*Read 5 free articles per month without a subscription
Join now for unlimited access
Try first month for just £1 / $1 / €1