New British women's team is aiming for the Tour de France Femmes - with a budget to match its ambitions
Hess Cycling will have a "core focus" on developing British riders, and has already signed 17-year-old Holly Ramsey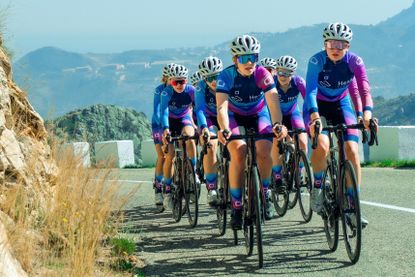 (Image credit: Hess Cycling)
A new women's cycling team is set to join the British scene next year, and hopes to compete at the 2025 Tour de France Femmes avec Zwift, on its way to being the leading British squad.
Hess Cycling, founded by Swiss businessman Rolf Hess, has applied for a British Continental race license, which it expects to receive in the coming weeks.
The squad competed last year under a Luxembourg licence, and is now likely to be one of seven women's Continental teams on the British circuit in 2024.
"Today is the start of our journey to elevate Hess Cycling to become Britain's leading professional women's cycling team," Hess said in a statement shared on Wednesday.
Already, the businessman's team has significant funds. Its first-year budget was €750,000 (£650,000), more than six times that of other British women's teams, and it hopes to add further sponsorship deals for 2024.
Hess's aim is to build the budget to €5million (£4.3million) within five years.
"Over the last 12 months we have worked to build the management team and commercial structures and we look forward to supporting the cycling community here in Britain and further afield," the founder continued.
The team has set out with lofty ambitions: to gain WorldTour status, becoming the first British team to do so, and to compete at the Tour de France Femmes in 2025.
According to a press release, its roster next season will include "riders that currently compete at WorldTour level" and multiple riders who are expected to feature in next year's Paris Olympics.
The team will also have a "core focus" on developing British riders, which it hopes will be its stars of the future.
As part of this, Hess announced the squad's first signing as 17-year-old Holly Ramsey, one of Team GB's promising junior academy riders.
Ramsey said: "The environment the team are looking to create is exactly the right one for me to continue to develop as a rider and I look forward to joining up with my fellow riders.
"For years, I've looked up to British women racing on a Continental and World Tour level as role models and to now compete alongside them is going to be massively exciting."
Hess Cycling will reveal a full rider list next month. This season, its 10-woman squad counted one British rider, 28-year-old Alice McWilliam, who finished 8th at the Lancaster Grand Prix.
Thank you for reading 20 articles this month* Join now for unlimited access
Enjoy your first month for just £1 / $1 / €1
*Read 5 free articles per month without a subscription
Join now for unlimited access
Try first month for just £1 / $1 / €1