Number of British women's Continental teams set to double in 2024
Three British teams have applied to step up to UCI level next season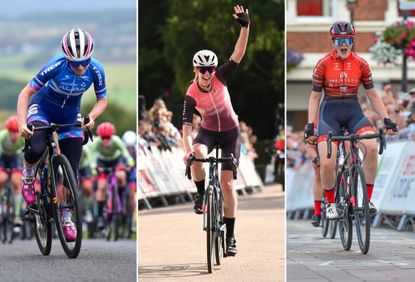 (Image credit: SWPix)
The number of British women's teams registered at UCI Continental level is set to double in 2024, increasing from three to six.
Cycling Weekly understands that three elite development squads have applied for Continental licences through British Cycling. The teams will now prepare the relevant paperwork for submission to the UCI, but the process is expected to be a formality.
As a result, Hutchinson-Brother UK, Alba Road Team and Pro-Noctis - Heidi Kjeldsen - 200 Degrees Coffee are set to join Lifeplus Wahoo, DAS-Handsling and AWOL O'Shea in women's cycling's second tier next season.
For Hutchinson-Brother UK team manager Ian Watson, the influx of licence applications is a sign that the British women's racing scene is getting stronger.
"I've been in women's cycling for the best part of 10 years now and it has grown exponentially in that time," he told Cycling Weekly. "This couldn't have happened a couple of years ago, because you just wouldn't have had the strength in depth of the riders within the female peloton, which you really have got now."
Continental status gives teams access to "bigger races", Watson explained, and will allow his riders to showcase themselves internationally. This year, Hutchinson-Brother UK competed in four UCI races abroad, and hope to progress further next season.
The opportunity to race more overseas is also a big draw for Scotland-based Alba Road Team.
Speaking to Cycling Weekly, team manager Bob Lyons said that elite racing in the UK is "down in the doldrums a little bit from a calendar perspective".
At the start of this year, the women's National Road Series shrunk from seven to five races. Financial constraints then led the organisers of the Tour Series to scrap their criterium racing events for 2023.
"Certainly for what we do - which is provide this platform for riders to move on to the top levels of the sport - we need a good race calendar," Lyons added.
The same sentiment was echoed by Pro-Noctis rider Jo Tindley, the former national circuit race champion. "When you look at this year and the amount of races we have over here at national level, there were not many," she said.
"I think to gain that racing experience and actually have a full calendar, teams are looking to step up so that they can ride these UCI races."
Currently, all three squads operate on a budget just north of £100,000 per season. Although none of the teams are required to pay salaries to riders, further expenses will come at Continental level in the form of extra travel, insurance and race registration fees.
There is a hope, however, that becoming a UCI team will offer more opportunities for commercial partnerships.
"It's very good for sponsors because the profile [of the team] is higher," said Alba manager Lyons. "Obviously what we're going to be doing next year needs a much bigger budget, so we need to work with sponsors to make sure we're delivering what they require."
Despite the booming number of women's racing teams, there are only two men's UCI Continental teams in the UK (Saint Piran and Trinity Racing), following the collapses of both Ribble-Weldtite and AT85 Pro Cycling due to sponsorship troubles.
The full list of UCI women's WorldTour and Continental teams is expected to be released at the end of the year.
Thank you for reading 20 articles this month* Join now for unlimited access
Enjoy your first month for just £1 / $1 / €1
*Read 5 free articles per month without a subscription
Join now for unlimited access
Try first month for just £1 / $1 / €1