No-fly zone: New ultra race bans air travel for riders in eco push
The Accursed Race, from the organisers of the Transcontinental Race, debuts next year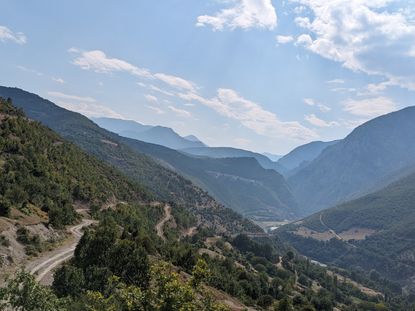 (Image credit: Lost Dot)
A new ultra cycling race from the organisers of the Transcontinental Race (TCR) has an environmentally friendly twist: competitors are not allowed to fly to or from the event.
The Accursed Race, a 1600km-long off-road race in the Balkans, will debut next May, with a route that will take riders through Albain, Montenegro, Bosnia & Herzegovina and Kosovo.
It has been created by Lost Dot, the organisation behind the TCR and the Trans Pyrenees Race, with the concept seeking to bring its carbon footprint down, and for it to be more eco-conscious.
The bikepacking event takes its name from the Accursed Mountains in the southern Dinaric Alps, and will start in Shköder, Albania on 14 May 2024; there is 37,000m of climbing on the route.
A carbon footprint analysis carried out by Lost Dot in 2022 showed that 70% of the company's annual 487 tonne CO2e footprint came from riders' travel to and from races, with most of this coming from air travel. Therefore, the idea of a flight-free race came about.
"Sustainability is a core pillar of our social mission, and is a vital part of ensuring we can keep responsibly running our races in a liveable world," Hannah Larbalestier, the race's coordinator, said. "We're privileged to be able to explore and enjoy these landscapes, and with that comes a responsibility to minimise our footprint and to do what we can to protect them."
Lost Dot has already introduced other initiatives into its existing races in order to be greener; the TCR has the Green Leaderboard, a ranking reserved for riders who make their way to and from the race without resorting to air travel, with the fastest of these being recognised at the finish.
This year, the TCR also offered 10 £250 grants this year to help with the extra costs associated with opting not to fly, and says that in future its selection criteria will take into account a rider's carbon footprint when travelling to and from the event.
Post-race surveys following this year's TCR have shown a jump from around 18% of respondents travelling flight-free in 2022, to 33% this year. "It shows us that the appetite is there for low-carbon modes of travel, and that hosting a no-fly event is now a viable option," Larbalestier said.
For The Accursed, Lost Dot will be offering in-depth guidance on sustainable travel options, in addition to arranging a bus service from the closest ferry port to help ease the logistical burden on riders.
The organisers say that Shköder is most easily accessible by taking high-speed trains down to the east coast of Italy, and then getting a ferry across to Durrës in Albania, via Bari, Brindisi, Barletta or Ancona.
"As awareness of the climate crisis grows, more and more riders are going to be looking to partake in events that they can travel to overland," Andrew Phillips, the race's organiser, said. "We want to show the community, and the wider industry, that this is what sustainable bike racing can look like."
Thank you for reading 20 articles this month* Join now for unlimited access
Enjoy your first month for just £1 / $1 / €1
*Read 5 free articles per month without a subscription
Join now for unlimited access
Try first month for just £1 / $1 / €1