Obree ready to lay it down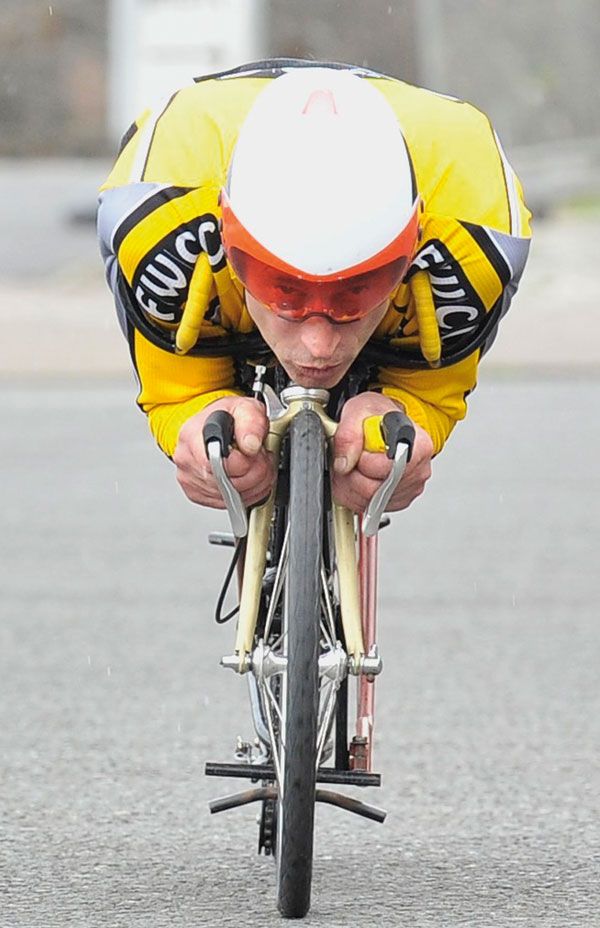 The last time I reported on the bike on which Graeme Obree is aiming to break the IHPVA (International Human Powered Vehicle Association) Land Speed Record, it required a bit of imagination from the reader (Cycling Weekly 7 June) - it was a frame and wheels.
Since then, Graeme has completed the mechanics of the HPV. The build was going to feature multiple gears, however the bike has been simplified and now features a single 286-inch fixed gear! The crossover drive with crank extensions pitching the pedals above the rear wheel is something which Graeme thinks hasn't been done before.
"When I push the pedals on the crank extensions, the knees fit into the void behind the hip support. The pedal axles have been shortened dramatically allowing the feet to pass very close to each other reducing width at the rear of the machine to an absolute minimum. That was a really important, pivotal thing for me with the build, that the pedalling action doesn't effect the aerodynamics".
Graeme got the huge gear rolling by paddling his arms almost like a swimmer, before gradually picking up speed and tucking his arms back in. There was no visible movement from the front, no legs bobbing up and down, just Graeme's head and arms crouched in an almost tri bar position at about the height of a standard 700c wheel, hurtling down a quiet street with a smoothness you wouldn't normally associate with a cyclist.
In fact, this was more like watching a missile coming towards me than a cyclist. The fly-past was smooth, fast and very, very impressive. Barely turning the cranks at a low rpm - on a less than ideal street - the speed must have been approaching 30 mph. The next few weeks will involve more testing along with the Glasgow College Design Technology team manufacturing a carbon shell before preparing for the Battle Mountain (IHPVA) World Championships event in September.
Another impressive Obree build passes the initial testing phase. "My friend, Jim Gladwell (former Scottish International) has helped with the physics and maths, he's an engineer with Rolls Royce, "We know that the drag from this will be significantly less than the current fastest machine. We know how the numbers stack up, but its one of those things you don't really know until you're on the machine and you're going for it."
More like a missile than a cyclist - the minimal frontal area becomes apparent from front-on shot. Following the fly-past I asked Graeme how it rode, "It's very direct. Even with the big gear, press harder and you can feel it surging forward. It's also pretty light too at 14kgs. Manoeuvrability isn't great when it comes to turning - but it's never going to be a commuter bike!"
Flying machine at rest. Graeme explained how he approached the project, "It's turned out pretty much how I had it in my mind. I came at this project from the standpoint of imagining if an alien had come to earth and had to design a machine to make the human being go as fast as possible - a human being powering a machine as fast as possible."
Graeme has incorporated a couple of safety features into the build, including a chain-guard - top centre of this picture "The chain-guard is just in case! The chain passes pretty near my femoral artery! The shoulder supports have bars at the front that should break off in a collision - say if I was to hit a coyote at 80mph in the Nevada desert! " Graeme explained with a laugh.
As soon as the moving photos were done, interested locals soon gathered around. Young BMX riders and a couple of local road cyclists instigated an informal Q and A session on building rapid machines on your kitchen table. They listened intently, glancing at the machine from time to time wide-eyed and open-mouthed.
The crossover drive transmission has the effect of ramping up the gear ratio to create the huge, 286 inch gear necessary to attempt to take the record held by Canadian, Sam Whittingham at 82.9 MPH. Chain guides and a tension device keep it all turning as it should.
The brown coloured crank extension arms are constructed with Reynolds brake bridge tubing and slide back and forth on a roller and guide system. The SPD pedals have been heavily modified to enable Graeme's feet to pass as closely as possible, which in turn will allow a narrower and faster outer shell. The welded sections at the rear behind the wheel will assist the mounting of the outer shell.
What has Graeme been cooking up in his kitchen? A quick glance at the kitchen worktop gives the clues; bread, propane gas, salad cream, solder flux...
Ride with Graeme at the Graeme Obree Sportive on July 29 in beautiful South Ayrshire and you'll get to see the man himself and his potentially record-breaking machine up close. www.obree.com
This article was first published in the July 19 issue of Cycling Weekly. You can also read our magazines on Zinio and download from the Apple store (opens in new tab).


Thank you for reading 5 articles this month* Join now for unlimited access
Enjoy your first month for just £1 / $1 / €1
*Read 5 free articles per month without a subscription
Join now for unlimited access
Try first month for just £1 / $1 / €1
Founded in 1891, Cycling Weekly and its team of expert journalists brings cyclists in-depth reviews, extensive coverage of both professional and domestic racing, as well as fitness advice and 'brew a cuppa and put your feet up' features. Cycling Weekly serves its audience across a range of platforms, from good old-fashioned print to online journalism, and video.