Our top seven most love to hate cycling jerseys
We've all been there - and worn the jersey. Our top seven favourite newbie cycling jerseys you just have to own at one point during your cycling life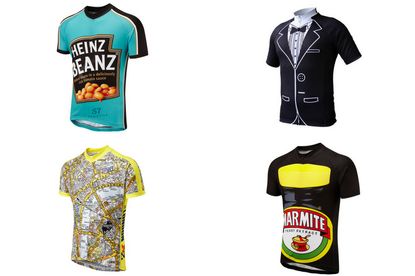 These seven jersey are instantly recognisable to every cyclist in the UK. Whether you had one or laughed at a mate who turned up wearing one; there is something in these jersey designs that just keeps on giving. Each has ultimately cemented a place into the cycling rule book - for reasons good and bad!
>>> The difference between budget and premium
We've all worn one of these jersey's at some point - most likely right at the start of our cycling lives before we had our mates burn us so heavily for wearing them we stuck them in our cycling wardrobe never to see the light of day again.
But head out cycling today and you are pretty much guaranteed to see one of the seven below. But what makes us buy them? Is it something about the popular brands these jersey are associated with? Or the fact we are none the wiser when we purchase them?
World Champions jersey
Let's get this one out of the way early shall we! In cycling, unlike some other sports - like football - it is seen as a right to only wear the World Champ bands if you have earned them. Despite this many cyclists who wear it have not beaten Peter Sagan in the process, but it doesn't stop people buying them! Wear this one with care if you are planning to!
A-Z Road Cycling jersey
If you live and commute in London you'll be sure to see a number of these on your daily commute. The A-Z Road jersey is a must own when you first start commuting in London, if you haven't owned one, are you even a cyclist?
London Pride jersey
Better than your average recovery drink? Whatever it is about London Pride many of us seem to love the design and wear it proud out on the road. Maybe wait till after your ride to have a few pints though!
Marmite jersey
Love it or hate it this jersey has become one of the most iconic jersey for any newbie cyclist in the UK. Local riders have adopted nicknames thanks to this jersey. Poor them!
Heinz Beans jersey
Now this is one of the UK's most popular food sources and of course means that if you dig baked beans it has to be Heinz, right? At least if you did get it down your front, you wouldn't notice the stain!
Bow Tie jersey
I've actually worn one of these... but on a fancy dress ride. Often received as a present from relatives who think it's a fantastic jersey but in reality doesn't bring out the best in us! Don't wear to a black tie event!
Team Sky jersey
This a classic jersey that newbies wear. To many road going bike riders, wearing the jersey of a team you're not on is considered offensive. However, it is a great looking jersey! Another one to be worn carefully if turning up to your club run!
Many of these jerseys can actually be bought from Foska.com, with a large range of other styles and designs on offer. All of which are under £50, bargain!
Thank you for reading 10 articles this month* Join now for unlimited access
Enjoy your first month for just £1 / $1 / €1
*Read 5 free articles per month without a subscription
Join now for unlimited access
Try first month for just £1 / $1 / €1
Symon Lewis joined Cycling Weekly as an Editorial Assistant in 2010, he went on to become a Tech Writer in 2014 before being promoted to Tech Editor in 2015 before taking on a role managing Video and Tech in 2019. Lewis discovered cycling via Herne Hill Velodrome, where he was renowned for his prolific performances, and spent two years as a coach at the South London velodrome.