Police examine Ricco's blood and telephone records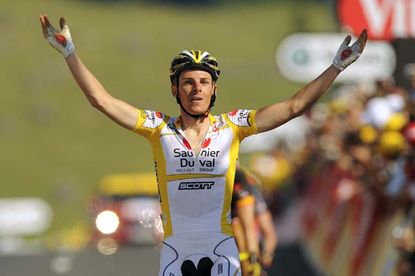 Italian prosecutors have confiscated Riccardo Riccò's hospital tests and telephone records for their doping investigation. The cyclist admitted Sunday to an illegal blood transfusion, which led to his hospitalisation and near death.
Fiorenzo Alessi, Riccò's lawyer told La Gazzetta dello Sport today that Riccò may try to retract his admission.
"This is not the time to give declarations," said Alessi. "And I gave the same advice to his family."
Riccò felt ill on Saturday after training and told his dad Rubino Riccò that he had a fever of 38°C. It rose to 40°C overnight and was accompanied by abdominal pain. Rubino took his son to the local hospital in Pavullo Sunday morning. Doctors saw Riccò's condition was critical and transferred him to the hospital in Baggiovara (Modena).
A medic from the Pavullo hospital revealed on Tuesday that Riccò admitted blood doping.
"On his own," explained the medic of Riccò's admission, "he had done an auto-transfusion of blood that had been kept at in a refrigerator at home for 25 days." He added that Riccò was afraid that "he had stored the blood poorly."
Riccò faces his second doping investigation in three years. He tested positive for blood booster EPO-CERA at the Tour de France in 2008. The test results were revealed on July 17, after he had won two stages (Super-Besse and Bagnères-de-Bigorre).
He served a 20-month suspension and lost his two stages wins as a result. He returned last year with Italian second division team Ceramica Flaminia, he won five stages in various races and the Tour of Austria overall classification.
He left Ceramica Flaminia and joined Dutch team Vacansoleil in August. He won the Coppa Sabatini one-day race and with his UCI points, helped the team gain a first division, WorldTour licence.
Riccò began his season a week ago at the GP Marseillaise one-day in France. He was due to start the Tour Méditerranéen stage yesterday.
"I thought I'd find him in a much better state," added Alessi. "He's weak and not saying much, but he wants me to be his legal representative. I will defend him and protect him."
Riccò needs legal representation, he faces criminal charges for breaking Italy's anti-doping laws and a possible eight-year sporting ban.
Investigators need to wait until Riccò is in a better state to begin their interrogation. Meanwhile, they confiscated his telephone to investigate his last calls and whereabouts before going to the hospital. They are also due to order an examination of his blood values taken at the Pavullo and Baggiovara hospitals.
Related links
Ricco admits blood transfusion caused hospitalisation
Ricco remains hospitalised with likely kidney problems
Thank you for reading 20 articles this month* Join now for unlimited access
Enjoy your first month for just £1 / $1 / €1
*Read 5 free articles per month without a subscription
Join now for unlimited access
Try first month for just £1 / $1 / €1