Campagnolo releases tubeless ready Bora WTO wheels
Campagnolo launches new tubeless Bora WTO wheels, including a 77mm front wheel for triathlon and time trials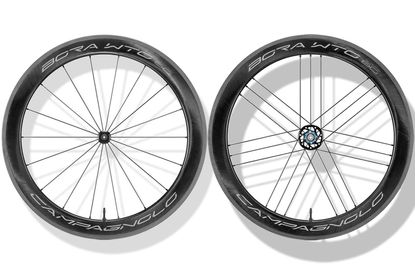 Campagnolo has launched two new Bora WTO cycling wheels which it says have been designed to be as aerodynamic as possible. The new wheels include a 60mm deep pair and one 77mm deep front wheel.
The WTO name stands for Wind Tunnel Optimized, which according to Campag, was where the wheels spent most of their time. Campag says it used this to inform its new rim designs, making them its most aerodynamic models yet, testing them from different angles and with real world conditions as well as computational fluid dynamics.
Both the wheels have a redesigned aluminium hub, which is thinner in the middle before widening towards the flanges, where they meet the diamond shaped spokes.
The Bora WTO 77 will use Cult ceramic bearings, which Campagnolo says are nine times more efficient than standard steel bearings, supposedly spinning for a whopping 45 minutes at 500 rotations per minute.
Only the deeper rimmed Bora gets the super slick Cult bearings, though, with the Bora WTO 60 using USB ceramic bearings instead.
Knowing that wider tyres are aerodynamically faster, Campagnolo has designed the wheels with 25 and 28mm tyres. It has also recognised that rolling resistance is affected by the standard of tyres used, with tubular tyres being the slowest and tubeless the fastest with clinchers in-between.
According to the Italian brand, tubular tyre resistance equates to 30 watts of rolling resistance at 40kph with a system weight of 87kg. Meanwhile, clinchers have 28 watts rolling resistance while the tubeless standard is the fastest at 25.
For this reason, you will be able to choose from only clincher or tubeless models. However, this means that Campagnolo's pro athletes will not be able to ride a tubular wheelset if they opt for the Bora WTO 60 at races, which they have been doing. According to Campagnolo, its teams used the tubeless Bora 60 wheelsets at Tirreno-Adriatico.
Watch: buyer's guide to different road wheels
Campagnolo expects the Bora WTO 77 to be used in triathlon races or time trials, so it's available as a front wheel only which weighs a supposed 745g. The Italian brand anticipates it being used with its disc wheel, although this is only available in tubular form.
Meanwhile, the Bora WTO 60 is available as a wheelset and weighs 670g for the front and 880g for the rear. There's currently no word on how much the wheels will cost.
Thank you for reading 20 articles this month* Join now for unlimited access
Enjoy your first month for just £1 / $1 / €1
*Read 5 free articles per month without a subscription
Join now for unlimited access
Try first month for just £1 / $1 / €1