Canyon reveals its first line of children's bikes
Canyon has released its first range of children's bikes, aiming to give youngsters the best first impression of cycling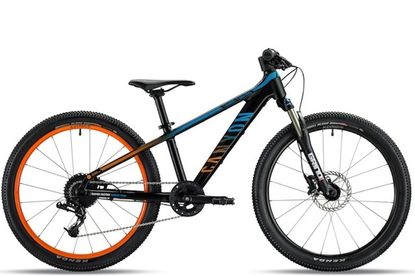 (Image credit: marion)
Get your kid's next bike delivered direct to your doorstep thanks to Canyon's first ever children's range.
The direct-sales brand has announced the new line, citing the importance of giving a child the best first impression of cycling possible.
"First impressions count the most, which is why it's so important to provide young riders with the best possible introduction to a life on two wheels," Canyon says.
The new line is made up of three bikes, including the Offspring AL 16, the Offspring AL 20 and the Grand Canyon 24.
Respectively, the bikes come in 16", 20" and 24" sizes and the range has been designed for children from the age of three.
>>> Bike of the year 2017: Canyon Ultimate CF SLX 8.0
In terms of design, the children's mountain bikes look to come packed with innovative features, including thru-axles and discs – all features you'd want to see on adult bikes.
For starters, the Offspring AL 16 looks to be the next step up from a balance bike. It's equipped with a two-speed hub shifting transmission and disc brakes, allowing maximum control.
It also comes with a larger 18" front wheel to help youngsters maintain their momentum when riding.
Next up, the Offspring AL 20 comes with a nine speed SRAM transmission as well as SRAMS Level disc brakes.
It'll also come with added protective elements around the cockpit to keep to protect the kids when out riding.
Finally, the Grand Canyon is the German brand's first ever dedicated mountain bike for kids. It comes with an aluminium frame, nine gears on the rear and a 65mm air sprung suspension fork up front.
Watch: Alex Dowsett's Canyon Aeroad
According to Canyon, innovative features can be found throughout the range. These include low stand over heights on the all the bikes, which should give your child maximum control.
Likewise, the addition of thru-axles on all the bikes is a nice attention to detail.
>>> Canyon Aeroad CF Disc 8.0 Di2
There's no word currently on a children's road range. Instead, Canyon has sought to make bikes that they say can be ridden on mountain bike trails despite their diminutive stature.
The Offspring AL 16 will cost £449. It's older sibling, the Offspring AL 20 with cost £599 while the Grand Canyon 24 will come in at £699.
All the bikes are set to be available in April 2017.
Thank you for reading 20 articles this month* Join now for unlimited access
Enjoy your first month for just £1 / $1 / €1
*Read 5 free articles per month without a subscription
Join now for unlimited access
Try first month for just £1 / $1 / €1