Cateye unveils synchronised lights and a commuter computer
App allows you to control up to seven front and rear lights at once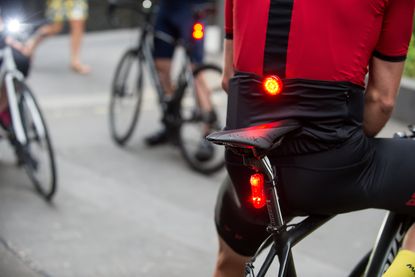 (Image credit: geoff waugh)
New Sync lighting control system
Cateye has also announced its new Sync system. It allows one button to switch up to seven lights on and off at the same time and to be synced using a smartphone app.
It works with three different Cateye light ranges: the Sync Kinetic, Sync Wearable and Sync Core. The Kinetic and Wearable rear lights can be set up to flash in unison, giving drivers coming up from behind quite an eyeful.
>>> Best front and rear lights reviewed 2018
Cateye's Sync Kinetic and Rapid X2 rear lights both include an accelerometer. The lights can also be configured to increase in brightness when deceleration is detected.
The Cateye Sync app can be downloaded to both Android and iOS phones. As well as being able to set up each light simultaneously or separately, the app allows you to check battery life for each light. You can also select a subset of modes, so you don't have ones which you won't need, or exclude individual lights from group control.
>>> Daytime running lights: should you be running them?
The Sync Core front light has 500 lumen output and can be bar or helmet mounted. It weighs 94g and costs £80. The Sync Kinetic rear light (£60) weighs 43g and emits 30 lumens, while the Sync Wearable (£50) weighs 21g. All are USB rechargeable. You can also buy a Sync Core and Kinetic package for £120.
Availability is scheduled from Autumn 2018.
New Quick commuter computer
The new Cateye Quick cycling computer is aimed at commuters. It's a compact, lightweight design with an easy to read LCD screen. Although you don't get GPS, the round display gives you two rows of data including the option to display current, maximum and average speed, total distance, moving time and a clock. There's auto start/stop too.
The Quick comes with an out-front mount and can be removed from the bike easily when you park. It's weatherproof, with analogue wireless data transmission from its speed and cadence sensor. Without a GPS, battery life is good with Cateye saying that, using the unit for an hour a day, it will run for a year on the included CR1616 coin cell. The unit weighs just 24 grams.
Availability will be from September, with a price of £44.95.
Thank you for reading 20 articles this month* Join now for unlimited access
Enjoy your first month for just £1 / $1 / €1
*Read 5 free articles per month without a subscription
Join now for unlimited access
Try first month for just £1 / $1 / €1