Factor One aero bike gets an update to make it even faster
Factor bikes has updated its One aero bike, adopting features from the Slick time trial bike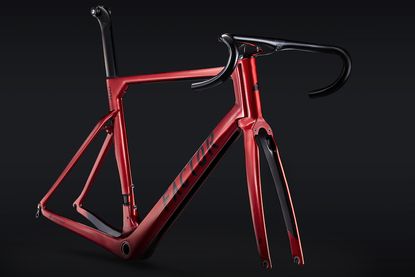 The new One frame uses the Twin Vane Evo down tube design from the Slick TT bike. Factor says that it has used CFD as well as wind tunnel testing to prove the design's aerodynamic efficiency. Further testing has been on the track and on the road.
Factor says that the Twin Vane Evo design also provides increased stiffness at the bottom bracket and headset, so that you get improved ride quality over other aero designs. Factor's bottom bracket uses Cervélo's BBright standard and the frame comes fitted with a CeramicSpeed BB bearing.
Interestingly, the Factor One is designed to accept electronic groupsets only; it's a step that few bike makers have taken yet. Following another trend, there will be rim and disc brake versions available.
Other aero features of the One frameset include the fork, designed with widely spaced legs and the external steerer hinge.
The seatstays too are aerofoil in section with a wide stance to reduce aerodynamic interference with the wheels. In keeping with modern trends, there is clearance for tyres up to 28mm wide. Rim brakes are direct mount, with the rear brake on the seatstays.
http://www.youtube.com/watch?v=7uk01TG8j1Y
Factor has its own aero cockpit for the One, called Otis Evo, which allows for full internal cable routing. Since there's no steerer tube, it's also easy to adjust bar height by adding or removing spacers. Factor says that the Otis Evo bar is also very stiff and there's an integrated computer mount.
On the disc brake variant, the front brake hose also runs completely hidden and the caliper is housed in a recess in the fork leg, to improve its aerodynamics.
The Factor One will come in seven sizes from 46 to 61 and red, black or silver finish options.
Thank you for reading 20 articles this month* Join now for unlimited access
Enjoy your first month for just £1 / $1 / €1
*Read 5 free articles per month without a subscription
Join now for unlimited access
Try first month for just £1 / $1 / €1