From motorcycles to aero bikes: Behind the scenes with KTM
We travelled to Austria to have a look behind the scenes at KTM's factory, as well as its upcoming projects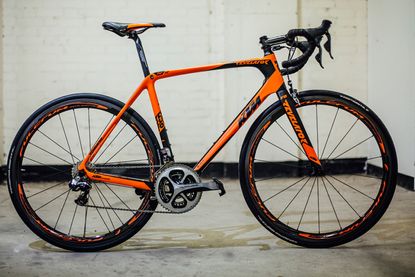 Get The Leadout Newsletter
The latest race content, interviews, features, reviews and expert buying guides, direct to your inbox!
Thank you for signing up to The Pick. You will receive a verification email shortly.
There was a problem. Please refresh the page and try again.
Hear the words KTM, and there's no doubt about what pops into your head – a black and orange motorbikes
But the brand has become so much more than motorcycles, with a rich heritage in pushbike manufacturing that continues today.
To put this in perspective, 1964 saw its first bike produced, and the 1980's saw the first exports just across the border to Germany. Meanwhile, 1992 was a big year for the company, which saw the motor bikes split from the push bikes factory and to this day the two have been produced in different factories, forming two different sides of KTM, just it happens to now sit across the town from each other.
>>> 10 best road bikes under £1500 for 2017
In fact, for a global company, KTM are still very much in touch with its roots, and both factories remain in Mattighofen, the same town the company was born in and to this day still makes up the M in the companies name.
Fast-forward 25 years, though, and business is booming, it's just a little more modern. Of the 230,000 bikes that KTM shifts a year, most are e-bikes and in sold within Europe.
In fact, the e-bike world is a different beast entirely across the channel and KTM informs me that they proudly hold a very large share of the European e-bike pie, including everything from commuter peddlers to full-blown enduro mountain machines.
>>> Canyon bring 650b to the road with disc only WMN launch
That slice was, I'm assured, easier to acquire thanks to its expansion to the global level, which has also meant an expansion in factory space. As you might expect, KTM now produces its bike frames in Taiwan, although it stresses they're all put together by hand in Austria.
When we visited, the factory was dripping in e-bike frames and commuter bikes mid-construction. According to the brand, a whopping 800 bikes are put together a day, and it takes a group of three only 12 minutes to do it. Formula One eat your heart out.
While KTM's e-bike and XC mountain bike line continues to expand, in comparison, KTM's road bike roster consists of a teeny 22 bikes, but includes the mighty KTM Revelator series and its Strada range.
The brand admits it has struggled to sell road bikes over the past year, which is no doubt a nod to the likes of Canyon, Cube and B'twin for dominating both the global market as well as KTM's central and southern European neighbourhood.
In such a saturated road cycling market, it's just easier to sell e-bikes – especially in a market as willing as Austria and Germany's. But that's not to say the brand isn't embedded within the road cycling world.
It currently sponsors seven teams, from the embattled Iranian national team through to the French Pro-Continental Marseille as well as a UK based team.
Watch: How are Titanium bikes made?
It's not just bikes, though. KTM now has four lines of kit, from entry level road wear through to its Factory Team kit. This includes, jackets, bib shorts, jerseys, helmets and shoes – and yes, most do come in that black and Orange colourway.
So, what's in store for the Austrian bike brand? Well a renewed focus on the road market for starters, following what will be a sizeable overhaul of their road fleet.
KTM understands that its e-bike range will be its prime focus but wants to make sure it gets its road bike range in great shape. With 12-14 employees focussed solely on research and development, the future looks bright at KTM.
During the factory trip I was granted a sneak peak of the its latest creation, the KTM Lisse. An aero bike, that on paper at least, looks more slippery, and easier to use than most of the competition.
While currently only in the production stages, it's set to take to the fight to the top dogs in the aero world.
We say this because it includes a new innovative integrated bar and stem makeup, that KTM promises will make adjusting so much easier.
By using a serious of half shims underneath the stem, mechanics can slip the spacers out and adjust the front end height far more easily. The do-over comes as a result of KTM dealers referencing the difficulty of working on current aero bikes.
Thank you for reading 20 articles this month* Join now for unlimited access
Enjoy your first month for just £1 / $1 / €1
*Read 5 free articles per month without a subscription
Join now for unlimited access
Try first month for just £1 / $1 / €1