GoPro launches entry level Hero camera under £200 threshold
Action cam market leader has brought down the cost of membership to the Heroic family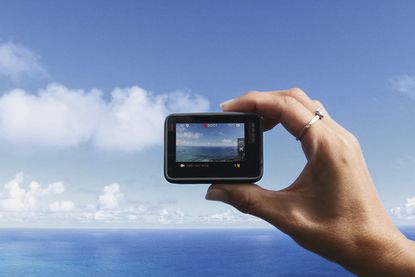 Market leader in action camera tech, GoPro, has today announced the launch of a brand new Hero family member. The new GoPro Hero is already on sale and comes in at a penny under two ton: £199.99.
The new GoPro hero is compatible with over 30 different mount types, which can be used to fix the unit to handlebars or helmet.
With a two-inch display, the camera is waterproof to 10 metres (you'd need to really get stuck in a downpour to surpass that) and can take 10MP pictures, recording HD video at 1440p60 and 1080p60.
The camera works in conjunction with the GoPro App, meaning video and pictures can be wirelessly transferred to smartphones for social sharing.
The camera has been constructed with durability at front of mind, and GoPro says it's suitable for "kids, adventurous social sharers and travel lovers" - so it should withstand commutes where you might want to record what's going on, too.
You can start and stop recording, take photos and turn it off using voice control too and video stabilisation can smooth out footage.
"HERO is a great first GoPro for people looking to share experiences beyond what a phone can capture", says Meghan Laffey, GoPro's SVP of Product, "HERO makes it easy to share 'wow' moments at a price that's perfect for first-time users."
Previously, the cheapest camera was the Hero5, at £299.99, with the Hero6 coming in at £399.99 and the top end Fusion 360° £649.99.
Helmet and bike mounted action cameras have become increasingly popular in the last few years - with commuters using them to capture interactions with other road users as well as those riding for leisure recording and sharing their adventures.
>>> Best helmet and bike mounted action cameras
There's a ride range of options - including those made to offer dual services for riders - such as the Xplova X5 GPS which combines a camera with a cycling computer, and the Cycliq Fly12 and Fly6 units which marry lighting with recording, front and rear.
Thank you for reading 20 articles this month* Join now for unlimited access
Enjoy your first month for just £1 / $1 / €1
*Read 5 free articles per month without a subscription
Join now for unlimited access
Try first month for just £1 / $1 / €1