Got an old bike? Trade it in at Evans Cycles, get £250 off a new one AND help charity
Trade in your bike at Evans Cycles and get up to £250 off your brand new bike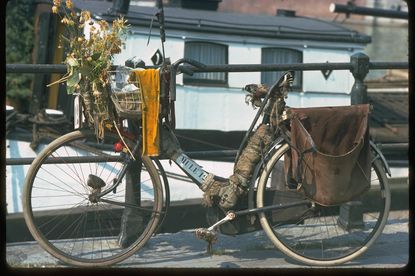 (Image credit: www.timeincukcontent.com)
Evans Cycles are running an exciting scheme where if you trade in your old bike, you could score £250 or more, off a new one.
The campaign, which runs until the June 6, is eligible in any of Evans Cycles 62 stores across the UK as well as online.
The discount you get isn't even conditional on the state of the bike you hand in. It's totally dependent on the price of the bike you decide to buy afterwards. So, that rust bucket bike sat in the garage could score you £500 off a brand new BMC Team Machine. Check out the table for the details:
>>> Best road bikes under £750: a complete buyer's guide
According to Evans, all bikes, except ex-demo and display bikes, are eligible in the scheme. You can even get money of your Ride-to-Work bike, and you can still finance it if you fancy.
That's not all, either. Any bikes that you trade in are passed on to charities who put them to good use. Evan's has loads of charity partners, including the likes of Recycle Your Cycle as well as multiple different bike projects, all of whom put old bikes to great uses. For example, many are donated to prisons where students will refurbish and repair old bikes.
Others, such as Recycle Bikes will refurb your old machine and send it to places such as Africa for those in need.
Elsewhere, The Bike Station in Scotland uses the low-cost second hand bikes to promote good physical and mental health as well as help the environment.
These are just a handful of the charity partners involved. To see the full list, head over to Evan Cycles website
Thank you for reading 20 articles this month* Join now for unlimited access
Enjoy your first month for just £1 / $1 / €1
*Read 5 free articles per month without a subscription
Join now for unlimited access
Try first month for just £1 / $1 / €1