Jamis bicycles back in Britain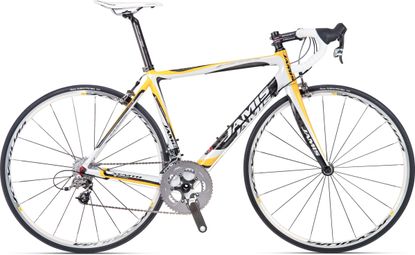 10th November 2010 Words: Nick Rearden
New 2011 models arriving in December. Evans to be the exclusive UK dealership.
Evans Cycles has announced that their mail-order channel and 42 UK shops will be stocking the Jamis bike brand from December. The Jamis name, associated mostly with relatively low-priced but decent, good looking mountain bikes and beach cruisers, has been in the doldrums for the last few years as UK distribution seemed uncertain.
There's an extensive range of 26 models coming, mostly of mountain bikes from under £200, to £999 for a full-suspension flagship. Needless to say, we're rather more interested that they're bringing road bikes, too.
There will be two variants of a carbon-framed racing model called Xenith for £2,249.99 and £1,329.99, a couple of trendy singlespeeds for £249.99 and £399.99 and a tidy looking full blown tourer (above) called Aurora Elite for £1,129.99.
We haven't seen this Jamis Bosa Nova for real yet but it looks like a great hilly commuter for under £750
Particularly notable for value fans, however is the comfortable-looking lightweight road tourer above. Called Bosa Nova for £749.99 and with a Reynolds 520 steel frame, its looks to undercut the burgeoning commuter category clustered just under the £,1000 Cycle To Work Scheme threshold, thereby usefully allowing some budget for lights, bags and helmet.
Jamis Xenith Pro £2,249.99: going seriously after the Boardman market with top kit on a carbon frame.
Just before Christmas is a great time to be offering mountain bikes that look like this Durango 3 for £749.99
Website: www.evanscycles.com
Thank you for reading 20 articles this month* Join now for unlimited access
Enjoy your first month for just £1 / $1 / €1
*Read 5 free articles per month without a subscription
Join now for unlimited access
Try first month for just £1 / $1 / €1