Light-up Torch helmets set for February launch (video)
Helmet with integrated lights hit UK shores at the London Bike Show.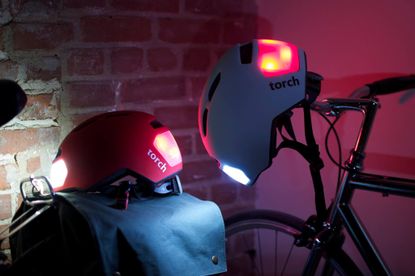 It seems like hardly a day goes by without the launch of another piece of cycling clothing with integrated lights. We've had jackets from Visijax, gloves from ICGlove, and an entire range of clothing from Lumo.
The latest piece of kit to catch our eye is the new Torch helmet which will receive its full UK launch at the London Bike Show in February. However this isn't the first outing for Torch on UK shores, after they appeared on the Dragons' Den last autumn. See how they got on here…
http://vimeo.com/107539423
The helmet features 10 LED lights – five at the front and five at the rear – all of which are fully integrated into the body of the helmet, and have four different functions including flash. Torch give a claimed battery life of 12 hours, with charging done via a single USB cable, meaning it can be plugged into your computer at work if you need a little boost to get you home safely.
With the weight of the Torch helmet sitting north of 360g, this certainly isn't one for the weight weenies, although it's still not bad considering that's effectively getting you a helmet and front and rear lights. The same could be said of the price, which at £85 certainly doesn't make it a budget option, but seems reasonable once you add up the cost of buying a helmet and lights separately.
For more details head over to the Torch website.
Thank you for reading 20 articles this month* Join now for unlimited access
Enjoy your first month for just £1 / $1 / €1
*Read 5 free articles per month without a subscription
Join now for unlimited access
Try first month for just £1 / $1 / €1