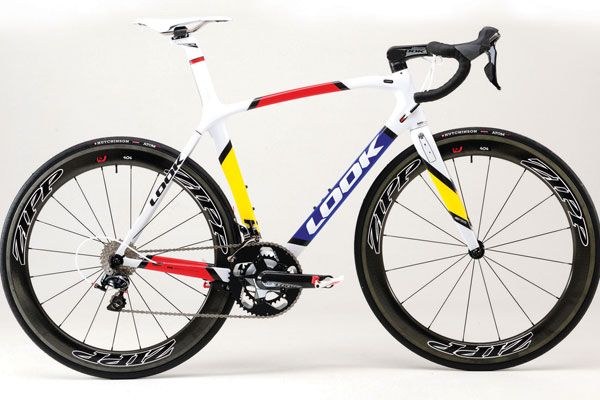 Having spent a few years developing the 695, Look - with specialist aerodynamic knowledge from Formula 1 expert Rene Hilhorst - decided to give the model's existing platform a redesign, and in turn created its first aero road bike.
All that remains of the 695 is the existing core central triangle, although even that's had a carbon lay-up rejig, going from a 3k to 1.5k weave along with a new resin mix. This combination, according to Look, is stiffer and keeps the frameset (frame and integrated seat tube, forks, brakes and stem) weight down to 2,550g for a size small.
With the biggest aerodynamic increase to be gained from relocation and integration of brakes, Look partnered with TRP to create a bespoke dual-leaver front brake, in essence a V-brake built into the new HSC 7 Aero fork. It makes for a tidy, aerodynamic frontal area.
The new Aerostem does away with the requirement for spacers, a +17/-13 stem angle catering for most needs and, thanks to the corresponding Look-patented Head Fit 3 headset, can be adjusted without loosening the headset.
This new design raises our concerns on the strength of the brake pull, due to a 90° bend in the routing where the brake cable slots into the underneath of the stem. The rear brake, now nestled under the new thinner, squarer chainstays is another TRP offering; it is perhaps not as highly stressed but still has to take a similar bend in the routing.
Though the ZED 2 single-piece carbon crankset isn't integral to the frame, Look claims it was designed to work in unison with the 695 Areolight. Both cranks, axle and spider are a single piece, and Look has designed a specific 65mm bottom bracket to accommodate them. A three-loped insert at the end of the cranks allows length adjustment between 170, 172.5 to 175mm. Framesets start from £4,499, including a pair of ZED 2 cranks and chainrings.
Ready to take both mechanical and digital shifting, the 695 Aerolight will be available from the autumn in sizes XS to XXXL. Contact: www.fisheroutdoor.co.ukLook 695 Light. The standard 695 remains part of Look's 2014 range, albeit with a slightly altered name.
Like the Aerolight, it benefits from the new composite mix, making it 90g lighter than the previous version, earning the tag 'Light'. Look has streamlined the range from two, Standard and Super Ridged, to just the one 695 Light option.
Contact: www.fisheroutdoor.co.uk
This article was first published in the August 8 issue of Cycling Weekly. Read Cycling Weekly magazine on the day of release where ever you are in the world International digital edition, UK digital edition. And if you like us, rate us!