Mavic finally goes tubeless – everything you need to know about Mavic Road UST
Tyre and wheel giant Mavic finally releases its tubeless system, which it is calling Road UST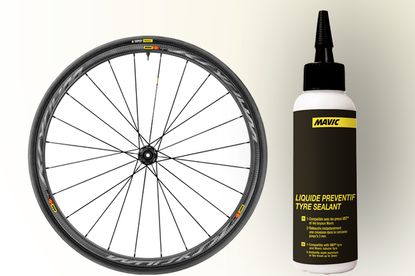 Despite Mavic's involvement in the foundation of the Universal System Tubeless for mountain bikes way back in 1999, it has held back from releasing its own products for the road.
Now, though, the French company has entered the tubeless market launching Road UST, which it says is the easiest, the safest and the fastest way to go tubeless. It has updated its Allroad, Comete, Cosmic and Ksyrium wheelsets as well as Open Pro rims so that they are now tubeless ready.
What is Mavic Road UST?
As you might suspect from the name, it truly is universal as UST was the first tubeless system, albeit for mountain bikes. Mavic says it's the only standard adopted by all wheel and tyre manufacturers the world over.
Mavic also says that when it comes to a tubeless setup, nothing can be considered in isolation. Instead, there are a number of things – stiffness and diameter of a tyre's bead, rim contour and height, and a tyre's hook shape must all be taken into consideration.
According to Mavic, the UST is also in the process of being approved by both the ISO and the ETRTO working groups, which would make it a standard in its own right.
>>> Pirelli PZero Velo tyres: our first ride impressions and key details
Ease of use
With the release of its tubeless system, Mavic is promising the easiest system on the market, but what does that actually mean?
Well, the French company claims that because it is a system made together, the increased compatibility between the tyre and the rim makes it far more safe.
Essentially, the variations and tolerances between the tyre and rim are not dramatically different to each other, which makes for a far more secure fit.
Practically, Mavic reckons it will be easy to set up, requiring only a track pump, and, if pairing the correct tyre with the correct rim dimensions, minimal tool use.
Obviously, the French brand says that it'll be far more difficult to mount a non-Mavic tyre onto a Mavic wheel or vice-versa.
Watch: How to setup up tubeless road tyres
Rim design is fundamental to tubeless
Mavic's UST rims are also taller and deeper than those of their competitors, and its tubeless tyres now have an increased sidewall height of 5.2mm, which in turn increases stiffness, and a tyre channel with a depth of 4.5mm.
It has also added in 'humps', which it says will stop a flat tyre rolling off of the rim, making the system safer for the rider.
>>> Continental Gatorskin tyres review
As with the rest of the system, Mavic stresses that rather than going as wide as possible with internal rim width, instead riders should pair their tyre width to the correct rim width to insure maximum stability.
Mavic's wheels will come with an internal width from 22mm (Allroad wheels), 19mm (Comete wheels, Cosmic Pro wheels and Ksyrium Pro Black wheels) and 17mm (Cosmic wheels, Ksyrium Pro wheels). These wheelsets are now tubeless ready.
Mavic does suggest that you could potentially spec non-Mavic wheels and tyres, but it would be "harder to use or unsafe". It'll be interesting to see if this could void warranties in the future.
>>> What effect do tyres have on aerodynamics?
What are the performance benefits?
This science is all well and good, but what does it actually equate to out on the road? A whole bunch of improvements, or so Mavic claims.
For starters, rolling resistance is decreased by 15%. Supposedly, even with 15psi removed, the tubeless tyre will still roll faster than a tubed tyre.
Mavic also promises a 40g weight reduction across the system, as well as better flat protection and also the ability to ride with a flat (thanks to those humps, remember?)
Thank you for reading 20 articles this month* Join now for unlimited access
Enjoy your first month for just £1 / $1 / €1
*Read 5 free articles per month without a subscription
Join now for unlimited access
Try first month for just £1 / $1 / €1