Mio Cyclo 210 colour touchscreen GPS launched
Smaller format but with the same functionality as Mio's larger units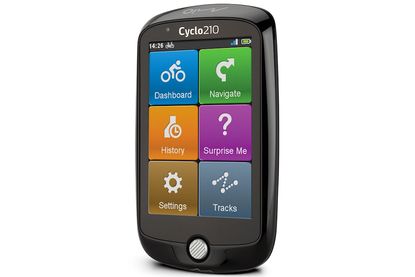 Mio is one of the smaller players in the increasingly crowded GPS cycle computer market. But its computers, like the top-of-the-range Mio Cyclo 505 HC that we tested a few months ago pack nice features like a quality colour touch screen and good connectivity.
Now Mio has brought its ease of use features to the smaller format Mio Cyclo 210. It still comes with a 3.5 inch touch screen and the same menu structure. It's also IPX5 waterproof. Mio quotes ten hours battery life and a weight of 151 grams.
You get full mapping too, with cycle paths and a full set of European road maps pre-installed. These feature points of interest for cyclists, including the vital cake stops, as well as bike shops and emergency locations.
Fortunately, calories burned are counted, along with the essentials like speed, distance and altitude. There's also turn-by-turn navigation, along with count-down beeps to alert you to a coming turn.
The Mioshare desktop app lets you map out routes and download them to the Cyclo210. You can also upload ride stats and there's full Strava integration.
>>> Cycle computer buyer's guide
Other features carried over from Mio's higher spec computers include the Surprise Me function. Tell the Mio 210 how far or how long you want to ride and it will suggest three looped route options you can follow, starting at your current location and returning to it.
Mind, when we tested this on the 505 HC, whereas we'd hoped for rides along leafy lanes through the Chilterns one of the suggested routes followed the A4 through Slough town centre.
The Mio Cyclo 210 is available now from Amazon, priced at £189.99, as well as from other cycle retailers.
Thank you for reading 20 articles this month* Join now for unlimited access
Enjoy your first month for just £1 / $1 / €1
*Read 5 free articles per month without a subscription
Join now for unlimited access
Try first month for just £1 / $1 / €1