New Black Mountain kids' bike grows as they grow
Frame designed to adapt through three different sizes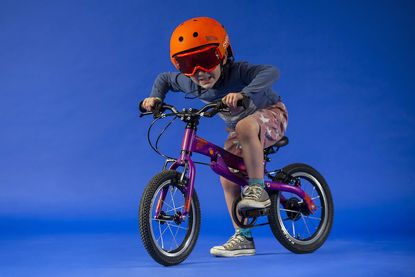 It's a problem that children grow out of their bikes rapidly. So you end up buying a bike that's a bit too large for them, wait for them to grow into it then leave them riding it with half-extended legs once they're really too big for it. It doesn't lead to the best or safest experience of learning to ride.
>>> Eight ways your cycling changes when you have kids
So Black Mountain has launched a bike that gets larger as your child grows. But it says that it's not just that they grow, but also that they get more confident, stronger and more able. It says that its design will typically last between one and two years longer than a conventional design before the child will grow out of it.
Black Mountain's first two bikes are the Pinto and the Skog. It says that the Pinto replaces a 12 inch and a 14 inch bike for ages three to five, while the Skog will suit children from five to eight, who would usually ride a 14 inch or a 16 inch bike.
Both bikes can be configured without pedals, as a first balance bike, then swapped to small pedals and finally to large pedals. Black Mountain has patented its design, which allows the frame height to be increased as the child grows. It also uses a single speed belt drive for low maintenance, lighter weight – and as it's oil-free, no messy trouser legs.
>>> Best balance bikes for 2018
The In:Gear rear sprocket is swappable, so that you can also increase the gearing as the child's strength and confidence increases. Black Mountain uses child-sized components, like a smaller saddle which can be dropped extra-low for smaller kids. Its bars and brake levers are also kid size and it uses Kenda Small Block Eight knobbly tyres for traction and Tektro brakes.
>>> Child on board: A guide to child bike seats and trailers
Weight for the Pinto is 5.7kg, while the Skog has a claimed weight of 6.1kg. Both retail for £329.
Thank you for reading 5 articles this month* Join now for unlimited access
Enjoy your first month for just £1 / $1 / €1
*Read 5 free articles per month without a subscription
Join now for unlimited access
Try first month for just £1 / $1 / €1