Oakley introduces TruBridge technology to its prescriptions glasses
The eyewear giant has developed a process to optimise the fit for its prescription frames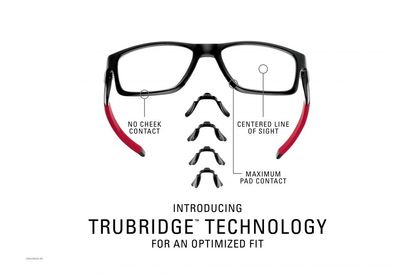 If you're that kind of rider who prefers to ride with prescription eyewear, then you might want to take a look at the new Oakley TruBridge technology. To make it simple, Oakley's new R&D product can be recap as a frame-fitting process that can suit the four most common nose bridges for perfect comfort all day long.
>>> Cycling glasses: a complete buyer's guide
Specifically, though, TruBridge concentrated its tech development on the centered line of sight for a better focus where the prescription is most accurate; on four different pads to fit and give a better contact to the four most common nose bridges; and on eliminating the contact between cheeks and frame. TruBridge will be available on four different Oakley prescription frames: Crosslink MNP, Chamfer MNP, Marshal MNP and Cloverleaf MNP.
>>> Do you need sunglasses that can talk to you? Oakley thinks so (video).
Oakley provides a 5-step process to find the best fit for your face and nose shape to the prescription frame. The first one is chosing the frame between the four available to TruBridge, while the second is assessing nose profiles among high bridge, medium, narrow or shallow (which is not an exhaustive range, but Oakley says these are the most common ones.
Consequently, the third step is the choice of the nose pad according to the nose bridge and the fourth step (says Oakley) is the installation of the nose pad on the frame; while the fifth and final step of the process - the American brand claims - is the achievement of a true and optimised eyewear frame-fitting.
Thank you for reading 10 articles this month* Join now for unlimited access
Enjoy your first month for just £1 / $1 / €1
*Read 5 free articles per month without a subscription
Join now for unlimited access
Try first month for just £1 / $1 / €1
Nick Busca is a freelance cycling and triathlon journalist. He is also a certified triathlon coach and personal trainer.