Rapha launches its latest cycling footwear – sandals
Complete with "All hail the rest day" detailing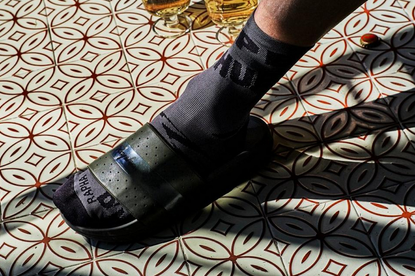 Of course, being Rapha these are not just sandals, these are Rapha Slides. And actually, you're not supposed to ride in them, you pop them on before you head out, when you're hunting around behind the sofa for that energy gel, or post-ride to let your feet cool off in comfort.
According to Rapha: "The footbed is made from a soft and supportive foam and is contoured to create an ergonomic shape which cradles the foot. The strap is made with a perforated microfibre material and a padded lycra lining on the underside for a soft, secure fit worn with or without socks.
>>> Rapha promises to disrupt the market with its range of new saddles
"As a reminder of the importance of rest and recovery, the heel is inscribed with an old adage from the peloton: 'All hail the rest day'."
For £35, you get the choice of black, navy or green – or you could buy a pair of each to make sure that you can match the Rapha socks you've been riding in. And for Rapha Cycle Club members, there's a special pink and grey option. You get a Rapha logo branded into the heel, so that if you happen to be walking through mud, you'll impart your Raphaness for those who follow to see.
We were looking for Rapha's £329 African Hair Sheep leather headphones to top off our pre-ride visioning and post-ride chilling, but sadly these seem to have been discontinued.
And you'll need a pair of Rapha socks to go with your Rapha Slides too – we'd recommend the £30 Pro Team Aero socks to get you sloping around your sitting room just that bit quicker.
Thank you for reading 20 articles this month* Join now for unlimited access
Enjoy your first month for just £1 / $1 / €1
*Read 5 free articles per month without a subscription
Join now for unlimited access
Try first month for just £1 / $1 / €1