First look: Rapha promises to disrupt the market with its range of new saddles
We take a look at Rapha's new saddles which it says will disrupt the market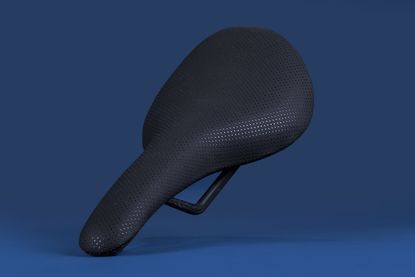 Rapha's new range of bike saddles debuts today with the British brand promising to disrupt the existing saddle market.
The brand saw the creation of saddles as a natural extension of its work with bib shorts, and it says that ultimately rider comfort is dictated by the saddle that the cyclist uses. For this reason, the brand is releasing two model variations which will then be available in two different widths.
Each saddle is designed to work with a specific pair of Rapha bib shorts and there's a simple fit calculator that determines the best choice for you, calculated using you waist measurement, weight and style of riding.
For those who are less aggressive on the bike (like me) there's the Classic saddle designed, as you might expect, to be ridden in partnership with the Rapha Classic bib shorts II. We have the regular Classic saddle in the office right now and it's wide in design and looks similar to a Fizik Aliante, with a slight wave towards the rear and a long thin nose.
A second saddle, the Pro Team, is more aggressive and Rapha says it has a speed-focussed design. The Pro Team is also available with a cutout and both saddles come in a narrow 130mm option – that's 2mm narrower than a Fizik Arione – and a wider 145mm option.
Rapha says that the foam density is tuned to rider weight, which is why an accurate weight measurement is so important, and it then works with the bib shorts to achieve "optimal comfort through compression".
Watch: Saddle buyer's guide
The saddles are impressively light - our regular Classic saddle weighs 193g - with a carbon construction and are, according to Rapha, made in Italy. A one-piece carbon rail runs the entire length of the saddle and Rapha says it provides flex and compliance.
According to Alex Valdman, Creative Director at Rapha, the brand "wanted to create an unrivalled riding experience by combining the Rapha chamois with a saddle, so we recruited the most experienced saddle manufacturers, developers and engineers in the industry to help us create a system that could provide total comfort."
There are colour variations available to Rapha Cycling Club members, featuring the RCC logo on the nose or a pink and black design across the body.
The Classic saddle both narrow and regular costs £180, while the Pro Team saddle both normal and cutout costs £295.
Thank you for reading 20 articles this month* Join now for unlimited access
Enjoy your first month for just £1 / $1 / €1
*Read 5 free articles per month without a subscription
Join now for unlimited access
Try first month for just £1 / $1 / €1