See.Sense teams up with British Cycling to offer insights into dangers facing cyclists on the road
The intelligent bike lights collect data that will be fed back to BC to help support better infrastructure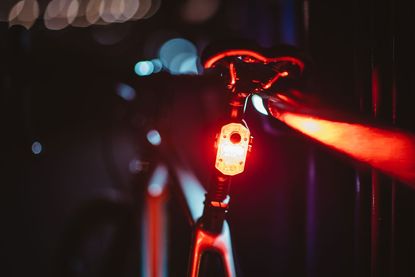 See.Sense have announced a partnership that will see the intelligent bike light manufacturer become the 'Official Crowdsourced Data and Insight Supplier' for British Cycling.
The lights, initially funded via Kickstarter crowdfunding, use patented sensor technology to monitor cyclist's experiences, providing real-time information on collisions and near-misses, road surface, journey flow, speed and dwell times.
>>> The best bike lights 2018/2019
The light also adjusts inline with the rider's environment and movement - becoming brighter and flashing more quickly when risk is greater - such as at junctions and roundabouts. Brightness levels reduce when it's lighter outside, saving battery life.
Insights will be recorded by cyclists using the See.Sense mobile app, and will be relayed to British Cycling. The national governing body for cycling will also offer its 144,000 members discounts with See.Sense.
See.Sense's insights have already been used in Manchester, where smart city demonstrator CityVerve used the information to support its planning for cycle infrastructure investment and policies to promote cycling.
Philip McAleese, CEO at See.Sense, said: "At See.Sense we want to make cycling better. Cycling that's safer, more convenient and more enjoyable for everyone. Today's announcement will speed up this process as we work closely with British Cycling and local authorities to implement the changes required from our rider insights.
>>> Do you need daytime running bike lights?
"Now, every time someone cycles with a See.Sense light on, they'll know that they're not only more visible on their ride, but that they're also empowered to help make cycling better for everyone."
British Cycling's Commercial Director, Jonathan Rigby, added: "This is a really exciting partnership for both our members, the See.Sense community and cyclists across Britain.
"Our aim is to inspire and support people to cycle more regularly. The data generated by See.Sense lights will provide us with valuable insights, enabling us to guide national and local government on the smartest and most effective cycling infrastructure investments."
Thank you for reading 5 articles this month* Join now for unlimited access
Enjoy your first month for just £1 / $1 / €1
*Read 5 free articles per month without a subscription
Join now for unlimited access
Try first month for just £1 / $1 / €1