Selle Royal's Comfort range adds four new saddles
Redesign for the popular LookIN saddle range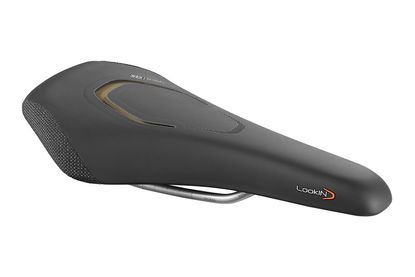 Selle Royal sells its more casual saddle ranges under its own brand name, while its performance cycling kit comes under its Fizik brand.
Its LookIN saddles have been refreshed for 2017, with new design, construction and materials. There are four new models: its Athletic saddle is the narrowest, while the Moderate comes in men's and women's versions. Finally there's the Relaxed variant designed with enough springiness for more upright riders. All the saddles have been reshaped for a more sculpted look.
>>> Inside Brooks, the saddle-making institution
The key feature of the new saddles is the incorporation of Selle Royal's own Skingel gel shock absorbing padding, which it says absorbs shocks 40% better than other gels. The cover includes extra-strong and durable fabric in the areas which get the most abuse.
Selle Royal has also reworked the saddle's base with an indented channel structure that it says mixes flexibility and strength. And the Relaxed variant has special "cupsprings" built in to add extra suspension.
Watch: How to set your saddle height
Selle Royal designs its saddles around the body's inclination dependent on the rider's style. So the Athletic model is designed for a rider with 45 degree spine angle, Moderate is for 60 degrees and Relaxed for a rider sitting upright with the spine at 90 degrees.
>>> Anatomical research underpins Selle Royal's Scientia range
The Athletic saddle has a width of 150mm and weighs 353g, the Moderate designs weigh just over 400g while the Relaxed comes in at 634g. All are priced at 64.90 Euros.
Thank you for reading 20 articles this month* Join now for unlimited access
Enjoy your first month for just £1 / $1 / €1
*Read 5 free articles per month without a subscription
Join now for unlimited access
Try first month for just £1 / $1 / €1