Inside Brooks: the saddle-making institution
We headed to the Midlands to uncover a secret or two about the saddle-making institution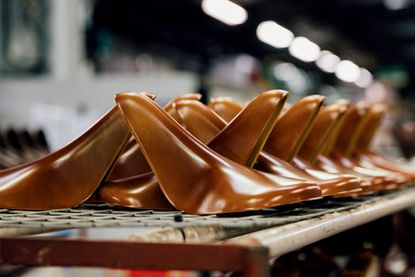 Style never goes out of fashion, it's said. Almost a century and half since its founder made his first leather bicycle saddle, Brooks England is living, working proof of this maxim.
John Boultbee Brooks was the son of a Victorian leatherworker who sold horse tack. When his own horse died, so the legend goes, Brooks started commuting to the workshop in central Birmingham on a velocipede, the latest craze in 1866.
>>> Brompton: the perfect commuting machine?
A week or so in, its wooden saddle was giving him so much trouble that he made his own out of leather. Fast-forward 149 years and some of the earliest saddles that JB Brooks patented — notably the B17 — are still being produced in Birmingham to a virtually identical specification.
Of course quality is something else that never goes out of fashion, particularly if it's a high-quality product that's made in Britain using traditional methods and natural materials.
>>> Sandpaper saddle injury adds to pain of Tony Martin's World Championships defeat
Certainly that means Brooks saddles will be more expensive than their synthetic counterparts from the Far East, but looked after properly they will last decades. And when you see how they're made, the £90 price tag on a B17 starts to look very reasonable indeed.
Steven Green is Brooks's UK sales and events manager. He has worked for the company for 37 years. Just as Brooks and the saddles it produces are in it for the long term, so too are the staff at the Smethwick factory, whose combined experience adds up to centuries.
Staff loyalty
Who is the longest serving Brooks employee? "We have a lady who has been here for 43 years," says Steven Green. "Her name is Sonia Thomas. She's worked here ever since she left school at 15 or 16.
"She started in 1972 and was making Raleigh Chopper saddles.
"There's a lot of people who have been here 10, 15 years plus," continues Green. "We've started to bring in younger people because we have this anxiety that we're all getting older here and there's no one to carry it forward.
"So we've brought a new batch of younger people in and they've been here five or six years or even longer!"
Find the best saddle for you
Green is small and bespectacled and speaks with a homely Brummie accent. He's the most laid-back sales manager you'll ever meet. With a product like Brooks saddles to sell, he doesn't have to be pushy.
"I came to work here straight from school," he says with obvious pride. "It was my first job." Instead of pushiness, Green brings to his job an incredible depth of knowledge and understanding.
The redbrick Victorian factory in Smethwick, an unlovely but historic part of industrial Birmingham, is in fact the third location for the Brooks business.
>>> The best women's bike saddles
"The first two were in Birmingham city centre," says Green. "The original one was just off New Street where the shopping centre is now, then, as the company grew and the saddle business took off, Brooks had a purpose-built building right next to Snow Hill railway station. There was more space there at the time. When the family sold the business in 1958 to Raleigh that's when things started to move towards Smethwick."
Local produce
Throughout the 1950s there was heavy investment in new, purpose-built machines for saddle making — but no one could have predicted those same machines would be making the same saddles 60 years later. How is this possible?
"Most of the companies that built them for us no longer exist," says Green. "So we're lucky being in Birmingham that if a machine or a part breaks we can just take the broken part down to engineers round here or find some drawings and they'll make a new one for us."
>>> Best front bike lights for under £100
However, Green admits that some of these ancient machines — which have taken on personalities of their own throughout the decades — can be temperamental, particularly the spring and wire-forming ones.
"A couple of years ago there was a major concern when one of the spring-making machines broke. We ended up having to buy a newer one second-hand and cannibalised it for spare parts for our two [there's one machine that makes the right-hand spring of Brooks's sprung saddles and another that makes the left]. But that all worked out in the end," Green says with a wry laugh.
Once a machine is set up to run a particular metal part — which can take two days — Brooks makes large quantities of it "to be safe", explains Green. Or in other words, before the machine changes its mind.
Brooks has been owned since 2002 by saddle giant Selle Royal. Is the small British factory ever concerned that its Italian masters might decide to scrap the old machines, make production more automated and lay off some Birmingham staff?
>>> 15 top tips for commuting to work by bike
"These things have been talked about," says Green. "There is new machinery around that would do a similar job, but this is a selling point for us. People like to come and see the machines running. There was talk at one time of a modern machine doing all the work and keeping the old ones here for when visitors come. But that seemed a bit fake to us so we're sticking with what we've got."
>>> Icons of cycling: Sean Kelly's cobble-busting Vitus 979
The Brooks factory receives visitors regularly. "We have journalists, cycling groups, distributors, and our better stockists like to come and have a look: after all it's an appreciation of the work that goes into making the saddles that they're selling."
Reading leather
As long as the machines are willing to play ball, making the springs, rails and backplates is a repeatable process. However, turning cowhide into Brooks saddles has the potential to be a little more hit and miss.
Leather has to be soaked in water before it can be turned into a saddle and, according to Green, knowing how long to soak it for is "a very subjective kind of dark art. You put one piece of leather in the water and it will soak it up much quicker than the next piece.
>>> Icons of cycling: Selle San Marco Rolls saddle
So it's a case of the operators through their experience going back to the water tanks, feeling the 'blanks' and saying 'OK this is ready now', or 'this needs another five minutes' and putting it back into the water."
How long does it take to learn how to read a piece of wet leather?
"The people who do that have been here for more than 15 years, going on 20 years," says Green. "Some of the newer employees we've taken on have been here seven or eight years. They still need to consult the experts at times. So they're still learning."
>>> Icons of cycling: Condor Cycles
Once a flat leather 'blank' has been appropriately soaked so that it's pliable, a leather-blocking press gives it its initial curvature. "We call that the blocked top," says Green. "There's no heat involved. The machine presses at 2,000lb per square inch, and because the leather is wet it stays in that shape.
"We take it out, put it on the rack to dry for a couple of hours and it retains that curvature. At that particular stage there are only four shapes formed by four machines. There are 10 different blank shapes but they all go into those four presses."
>>> Icons of cycling: Selle San Marco Rolls saddle
The B17 is the oldest model — "going since about 1879," according to Green — and is the most popular, along with the Swallow, for the UK market and Japan. Europe, mostly Germany and the Netherlands, go for the sprung saddles such as the B66 or B67 that are designed for Dutch bikes or traditional roadsters.
National treasure
What's next for Brooks? Are there more leather saddles in the back catalogue waiting to be revived and relaunched? "Every year we go to Eurobike and like to bring out two or three new items to keep the faithful interested and excited," says Green.
"It's not always possible with leather saddles now because we've been there and done everything, so we've started reintroducing anatomic leather saddles with a cutout — again that's nothing new: it was done way back.
>>> Icons of cycling: Campagnolo Super Record derailleur
"We've introduced the Cambium, which is made from natural rubber with a cotton cover. The range of those is growing and that's becoming very popular because of the low maintenance involved, the better resistance to adverse weather and so on. Those are partly assembled in Smethwick and partly in Italy so we've got a 50-50 arrangement. All the components are supplied through the Italian company [Selle Royal]."
Is there ever a new or relaunched Brooks saddle that doesn't work?
"We've launched saddles in the past that haven't sold that well and taken them out of the range… and people have complained!" laughs Green. "But there are products we've tested that didn't even pass our internal field tests so never went out.
"With leather saddles we try new colours. Some don't work out. We always try to use plant and vegetable dyes but when they react with the leather, the end colour can turn out completely different. Particularly the yellows — they go mustard or ochre. We struggle to get a bright yellow; blues too."
>>> Buyer's guide to rear lights
Whether the most vivid colours make it through or not, the vibrancy of the company itself certainly does. Brooks's anglophone Italian owners have a hand in keeping Brooks hip through sponsorship of high-profile retro events like L'Eroica and by operating the ultra-chic Brooks boutique, B1866, in Covent Garden.
However, the trendiness of the brand ought to be at odds with the ultra-traditional factory with its old machines and long-serving staff but, uniquely, it isn't and that's part of the attraction.
>>> Buyer's guide to road bike tyres (video)
Something that's regarded as a bona fide national treasure is not normally also regarded as 'cool' but Brooks is both, as the broad spectrum of Brooks riders, from grizzled Audaxers to retro-grouches to hipster polo players to City Brompton commuters, proves.
Will the B17 still be the height of fashion in another 150 years' time? Why wouldn't it be?
1,000 saddles a day
There are currently 34 people working in the Brooks factory making saddles. The factory is roughly divided into three sections: metalworkers, leatherworkers and assemblers.
>>> Is it the end for the 34t chainring?
"We can make 1,000 saddles a day," says Brooks's Steven Green. "So it comes to about 5,000 a week, and we work 46 weeks of the year."
Shoulder to rump
Brooks leather is only sourced from English and Irish cattle because the relatively harsh island climate means these animals have developed thick skins.
Saddle-worthy leather only comes from the back: from the shoulder blades down to the rump. Approaching the shoulder blades it becomes too thin and the belly too soft.
>>> Are electronic groupsets necessary?
The raw material, before it's cut, arrives in Smethwick as a sheet of leather called a butt.
The leather starts its journey towards becoming a saddle by being soaked in water for between 30 and 50 minutes — the amount of time these 'blanks' spend in the water tank is critical. Once the process is started and the leather soaked, it must be followed through, since the leather must not be allowed to dry out.
Thank you for reading 10 articles this month* Join now for unlimited access
Enjoy your first month for just £1 / $1 / €1
*Read 5 free articles per month without a subscription
Join now for unlimited access
Try first month for just £1 / $1 / €1
Simon Smythe is Cycling Weekly's senior tech writer and has been in various roles at CW since 2003. His first job was as a sub editor following an MA in online journalism. In his cycling career Simon has mostly focused on time trialling with a national medal, a few open wins and his club's 30-mile record in his palmares. These days he spends most of his time testing road bikes, or on a tandem doing the school run with his younger son.