New Shimano front shifting tech trickles down from Dura-Ace to 105
New 105 front shifter has leverage and adjustment improvements inherited from Dura-Ace R9100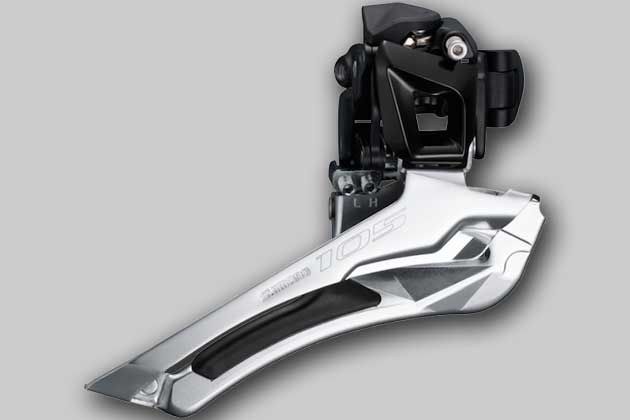 Shimano launched its latest Dura-Ace R9100 groupset at the start of the year and last month followed it up with the latest Ultegra R8000, which inherited the aesthetic and mechanicals of its pricier big brother. Next on the slab for a facelift should be the 105 groupset.
The full new 105 groupset hasn't been launched yet, but Shimano has already posted details of a new 105 FD-5801 front derailleur on its website and started to ship it on some new 2018 bikes.
>>> Shimano, SRAM and Campagnolo road bike groupsets
The new design follows that of the new Dura-Ace R9100 and Ultegra R8000 front mechs. Shimano claims lighter front shifting action and easier and more precise adjustment from the new 105 mech design. It says that the new mechanism also results in reduced effort at the lever, at the end of the shifting sweep.
We've set up the Dura-Ace R9100 front mech ourselves and reckon that the new design makes the process significantly more accurate, despite being outwardly more complex.
The 105 FD-5801 design also does away with the need for specialist tools to adjust cable tension and results in a shorter rear centre and improved fit with a wider gear pitch. And it caters for a wider range of cable entry angles, without this affecting shifting and also does away with the need for a separate barrel adjuster for the front mech.
The weight weenie will be disappointed though: Shimano quotes a unit weight of 112g for band on and 98g for braze-on against the older design's 104g and 89g, although the absence of a separate barrel adjuster is likely to make up for this.
And you can always swap to Dura-Ace R9100: a braze-on unit will save you 20g over the weight of the new 105 design.