Tech of the week: new bikes, new wheels and advice for new cyclists
We've been having a look at Greg Van Avermaet's BMC and DT Swiss's new wheels as well as giving you lots of advice to start and keep riding despite the weather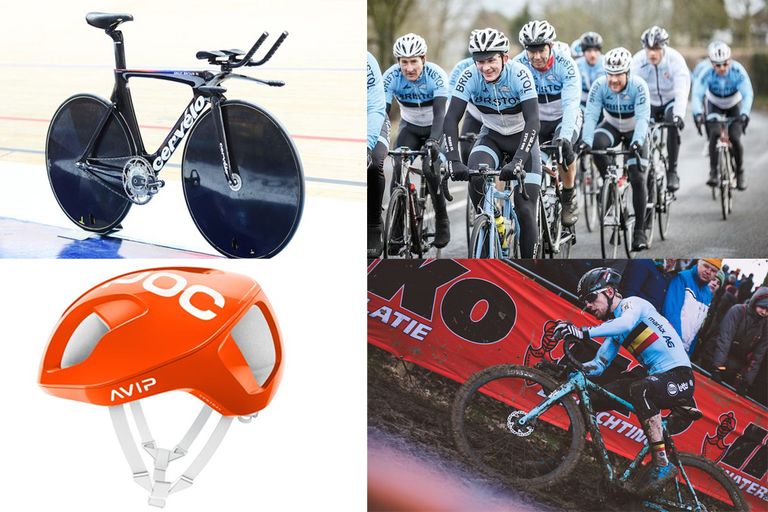 A new track bike for British Cycling
British Cycling teamed up with Cervélo for its track bikes for the last Olympics. Now there's an updated version of the T5, on which they won 11 medals. We've taken a look at the new machine being primed for the 2020 games.
We've also had a look at 2017 Paris-Roubaix winner Greg van Avermaet's custom painted BMC TeamMachine. It comes in black, complete with gold highlights to celebrate his win in the Rio Olympic road race.
Bianchi is the oldest bike brand still in business and we've guided you through its bike range, including its innovative Countervail anti-vibration technology. And we've told you about the new POC Ventral helmet, with SPIN, POC's answer to MIPS.
There's been off-road wheel news too this week, with DT Swiss launching a tubular and a tubeless-ready clincher carbon wheelset, designed for cyclocross and gravel. The tubs have already notched up an Under 23 world championship win for Eli Iserbyt.
And Hunt Bike Wheels has added two new 650B wheelsets to its range: a lightweight carbon rim version and an alloy wheel with a dynamo hub for all-night adventures.
Beginner advice
This week, we've had some hints and tips for the beginner cyclist, to get your riding going. And we've told you the 15 most annoying things which cyclists do, so you know not to.
If you're worried about whether your new bike is set up correctly, we've a handy guide to getting your bike fit more-or-less correct, without the expense of going to a professional bike fitter. And we've told you how to avoid and treat cycling neck pain.
One item of contention is whether cyclists should have to wear hi viz. In the US, Iowa has a bill in the state legislature with an amendment making it compulsory. It's not gone down well.
With snow and gales all last week, it might not have been the best time for a ride outdoors. We've had seven things to keep you occupied indoors. Or you could always take your bottom bracket apart and try to work out which standard it follows - we've a guide to all the species known to science.
If you do decide to venture out for a ride, we've told you how to set your bike up for bad weather and how to clean your bike up afterwards to avoid damage from salted roads.
And we've had the usual host of bargains, should you decide you really did need those snow tyres.