Made in the USA: Four of the best domestic carbon bicycles you should know about
Offering an alternative to bikes made overseas, these smaller operations are making high-quality carbon bikes closer to home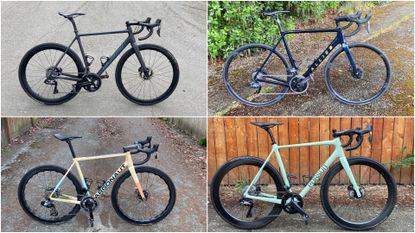 (Image credit: Tyler Boucher)
Today's top-end racing bicycles are very, very good. Bikes from major manufacturers hit their marks one after the other: light, stiff, aerodynamically optimized, reliable and more. They represent the pinnacle of what each company thinks a bike should entail. Carbon fiber is a fantastic material for building bicycles, and as manufacturers get better at using it, bicycles continue to improve.
In addition to being very good, however, production bicycles from big, mainstream brands have gotten rather expensive of late. For example: from 2018 to 2023, Specialized's flagship road bike, the S-Works Tarmac, increased in price from $10,000 to $14,250.
For reference, you can purchase a brand new Ducati motorcycle for $12,995.
Being very, very good and very, very expensive doesn't mean that these bikes are necessarily the right thing for you, however. If you're a WorldTour racer, or similar, you get paid to ride a certain kind of bike. The rest of us buy our own bicycles based on what speaks to us aesthetically, what feels (or looks) fast, or simply what we can afford. And we ride, not to get paid, but for fun, exercise, community, and sometimes, yes, to race against others—or ourselves.
Not even your humble bike tester gets paid to ride; I get paid to sit at my computer and write.
And so, there is another option to consider, not inexpensive, but a good relative value: the world of custom and made-to-order carbon bikes. In this small corner of the industry, you as the customer get the opportunity to participate in the design process. The bike can be designed for your weight, your power output, your terrain, and your needs. You pick how it looks. And, it might even cost less than a production superbike.
Smaller companies producing built-to-order bikes in North America have become much more competitive, price-wise as production bikes have become more expensive. And since more pieces are made closer to home, there are fewer opportunities for production interruptions or supply chain issues, as experienced in the early part of the Covid-19 pandemic.
There are some important caveats worth mentioning, however:
- Geometry: With a production bike, someone has already made the decisions with regard to the geometry and finish—you either like it or don't; end of story. With custom bikes, you're going to be a bit more involved in the process and need enough experience to be able to articulate what you're looking for. It also means that what a bicycle tester or reviewer has to say about a test bike might have little bearing on the bike you buy: it could be an altogether different bicycle.
- Test Rides: You likely will not get the opportunity to test ride your bike before it's built. It necessitates a leap of faith to put your choices and preferences into the hands of an experienced builder and hope that it comes out right. You're paying for the experience of working with the builder, their expertise, and also the bike, but you may may not know the end result until you get there.
- No instant #newbikeday satisfaction: Typically the process of designing and manufacturing one of these custom bicycles takes several weeks— eight to16 for most of the builders listed here.
To learn more about this world and what it has to offer, we reached out to several U.S.-based carbon bicycle manufacturers to test their bikes.
Included in this test are bicycles from Alchemy Bikes of Golden, CO; Allied Cycle Works of Rogers, AR; Argonaut Cycles in Bend, OR; and Pursuit Cycles in Bozeman, MT.
Other significant U.S.-based carbon manufacturers include Enve Composites in Utah, Open Cycles, which has a manufacturing facility in California, as well several smaller carbon builders who are also making very high-quality bicycles. Enve and Open were offered the opportunity to be included in this review but were unable to provide a bike at this time. Previously, their bicycles have both received favorable reviews in this publication.
Alchemy Atlas AU Carbon Allroad
Alchemy Bikes began in 2008 in Austin, Texas. Initially building with titanium and steel, the company soon expanded operations and hired a designer/composites specialist, adding in carbon as a third material to its offerings. Alchemy settled in Golden, CO, just outside of Denver in 2022. It employs nine people and both manufactures and paints bicycles in house, with the exception of a line of full-suspension mountain bikes made in Asia.
The company also has a few interesting programs to offer: one is a demo program where customers can visit Alchemy's showroom to test ride a bike and get a sense of the process and philosophies underpinning the company. The other is a 30 day no-questions asked return policy for a full refund. I can't imagine this happens very often, but it does offer some peace of mind for someone engaging a custom builder—if it doesn't turn out as you'd hoped then you at least have some options.
Spec:
You can trust Cycling Weekly. Our team of experts put in hard miles testing cycling tech and will always share honest, unbiased advice to help you choose. Find out more about how we test.
Model: Alchemy Atlas AU Carbon Allroad, stock 56 cm
Cost: $5,199 for frameset, $10,499 as tested
Weight: 15.6 lbs, sans pedals
Lead time: 12-16 weeks, as of May 2023
Warranty: Lifetime warranty on frame due to issue caused by manufacturer defects, crash replacement options also offered
Details: Custom and stock sizing available, clearance for 28 or 38mm tires, fender mounts optional
Build, as tested: Shimano Dura Ace Di2 9200, Alchemy branded rims (made in Asia) laced to DT Swiss 240 hubs, Vittoria Corsa 30mm tires, Zipp SL Speed seatpost, stem and handlebar
Construction:
The Atlas Carbon AU is the flagship carbon road model Alchemy offers, released as part of its superlight AU line which also includes a gravel bike and a titanium hardtail. The Atlas AU is available in two different versions: one with clearance for 28 and one for 38mm tires, and is offered both in stock and custom sizing, with additional add-ons like fender mounts also available. Alchemy does paint and Cerakote finishes in house.
The Atlas AU is built using tube-to-tube construction. According to Alchemy, it takes about 500 individual pieces of carbon and 12-15 hours of labor to make each frame. Tubes are mitered and joined, then joints are wrapped in layers of carbon. Alchemy builds other models with molded pieces, but says the Atlas AU is tube-to-tube to allow for maximum geometry customization. My test bike has an ultra thin cerakote finish that apparently adds only 5 grams to the weight of the frameset.
Visually, the Atlas AU is cohesive with an elegant silhouette. It has a slightly sloping top tube and tapered head tube that leads tidily into the blades of the fork. The seat stays have a subtle curvature to them, arcing like a bow. This combination looks light and ready to move. The wishbone seat stays are very narrow where they meet the seat tube, then flare out around the wheel.
Hydraulic hoses are routed internally through both frame and fork, but are exposed between handlebars and ports. The layers of carbon at the joints are visible and even discernable by feel, stacked up like steps, somewhat akin to the look of a nicely welded joint on a metal bike.
The Ride:
On the road, the Atlas Au performs like the lightest bike tested—it's sprightly. The frame alone weighs 840 grams. My very first ride was a high-mileage day where I wanted to see how I gelled with the bike over a long time period and as I got increasingly fatigued. I found myself harmonizing with it quickly and very impressed by its ability to take the edge off on rough pavement. Some lightweight bikes can feel skittish, but I didn't get that impression at all from the Atlas.
As one might expect, given where Alchemy is located, this bike performs very well on long climbs and descents. Golden, CO is right at the base of the Colorado Rockies where there are numerous long switchbacked ascents to explore.
I found that it the Atlas AU responded best to steady power outputs, and really shines on longer climbs where the frame's flex helped maintain sustained power, as opposed to sharper accelerations where it lacks some of the darting quality of a stiffer frame—that said, since it is custom and tuned to the individual rider, it is possible to specify differently.
My size 56cm test bike has a 72.5-degree head tube angle and 74mm of bottom bracket drop, which are fairly standard numbers for a road bike. The geometry worked well for me with even, predictable handling and no discernible quirks.
The 38mm tire clearance is great to see, though I would say it's on the high end for a road bike. I tested it with 30mm tires and was impressed by how comfortable it felt. Tires wider than 32mm tend to have a noticeable amount of pneumatic trail and lose some of the connected-to-the-road feeling of an out and out race bike. I didn't get a chance to try it, but I would be curious to see how this bike feels with wider tires. It's already exceptionally smooth as is—I can only imagine how much float it would have with more air holding it up. The increased clearance also allows for fenders to fit over road tires, which I always appreciate as a resident of the Pacific Northwest.
Value and rating:
4.5 stars out of 5
I appreciate the straightforward design of this frame—the lines flow very nicely and harmoniously with mostly round tubes and classic silhouette. Being able to see the details of the carbon layers is also a unique and captivating look.
This particular frame was built for Alchemy's launch event of several new frame designs, which I previously covered here. Once the bike arrived at my doorstep, it took me a little while to get comfortable with my contact points, but I found that it rode very well for me and is one of the most comfortable bikes I've ever been on. Cracked pavement and bumpy terrain did not pose an issue whatsoever. On longer rides I found myself less fatigued than when riding on stiffer bikes.
The tradeoff however, is that I found the Alchemy lacking in the absolute speed department. I'm not an especially powerful rider, but it didn't seem to have that direct punch of a racier frame. That's not necessarily its MO, though, and, as with most of the other bikes here, the bike can be made to suit your particular preferences and body profile.
At $5,199 this is the second most expensive frameset option here, but not by much. Certainly when going with a custom geometry and layup, the price is in line with its competitors.
If I lived in a place where I rode primarily up and down larger mountains, I would choose the Atlas AU above the others.
Image 1 of 7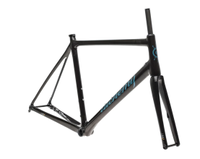 Alchemy Atlas 61cm Frameset - 2022
For sale on Pro's Closet:
Was $3,199.99, now $2,719.99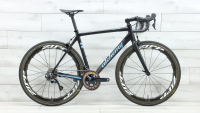 Spotted on eBay:
2019 Alchemy Atlas 56cm Road Bike with Shimano Ultegra 2 x 11 groupset.
US $4,949.99
Allied Echo
Allied is the outlier here in terms of customization—they are a production manufacturing facility, not a custom builder, though the bikes are made to order.
Allied has been manufacturing in Arkansas since 2017, but their story starts well before then. In the early 1990s, Guru Bicycles launched in Montreal, QC, Canada. In the 10 plus years they existed, they were one of the major innovators within the bicycle industry, building bikes out of four materials, with custom geometries, at scale. Unfortunately, the rise of high-quality carbon bikes being constructed in Asia, as well as increasing difficulties for North American-based manufacturers, led to Guru filing for bankruptcy. Serendipitously, a group of investors in the U.S. were at the time exploring new avenues for domestic manufacturing and acquired a cache of Guru's assets and equipment and set up shop in Arkansas. Allied's timing was good; it coincided with the rise of gravel in the U.S. and it quickly made a name for itself as a brand on the cutting edge of mixed-surface riding.
Like the other smaller manufacturers profiled here, Allied has found many advantages to making the bikes close to home: controlling all aspects of production keeps quality high, readily accessible parts for testing and prototyping, and being able to pivot quickly and adapt to the needs of customers.
Spec:
Model: Allied Echo, stock 56cm
Cost: $4,925 for frameset, $8,530 as tested
Weight: 17.7 lbs, sans pedals
Lead time: 8-10 weeks, as of May 2023
Warranty: Manufacturing defects covered for the lifetime of the product, paint covered for two years
Details: Stock sizing only, several custom color options with more available with an upcharge, clearance for 40mm tires in gravel configuration and 30mm in road
Build, as tested: SRAM Force AXS 2x groupset, Industry Nine AR25 Allroad wheelset, Vittoria Corsa 25mm tires, FSA SL-K seatpost, FSA K-Force handlebar, Allied's proprietary stem
Construction:
The defining feature of the Echo, and the inspiration for its name, is the flip chip system Allied has tidily integrated into the frame of the bike. Located in the fork lowers and rear dropouts are pieces that can be flipped in two different orientations to change the bike's geometry either to a pure road configuration or a more slack gravel race configuration. It's relatively easy to do so with minimal tools, and takes about 10 minutes to complete.
Allied starts its process from raw materials—prepreg carbon fiber sheets—and turns them into finished frames using a molded front triangle that is bonded to the individually constructed pieces that make up the seat and chainstays. The Echo features a threaded bottom bracket, an extra bottle mount on the downtube and can, by request, be made with routing for external hydraulic lines instead of using the proprietary internal stem routing. It is designed specifically for electronic drivetrains.
The frame has stout-looking tubes and sleek integrated features, like the wedge-style seatpost clamp on the top tube and cable port on the downtube. The top tube flows around the seat tube to morph into the seatstays. Initially, I found my knees brushing against the top tube as it's wider than most of the bikes I ride regularly, but I was able to adjust quickly.
Customers are able to choose their own paint and logo colors free of charge during the ordering process, and additional custom paint options are also available.
The Echo also features an integrated cockpit with a proprietary stem that hides the hydraulic brake lines. The effect should theoretically provide some aerodynamic benefit over a bike with exposed cables.
The Ride:
Allied's test bike came to me in gravel mode with 40mm knobby tires installed. I thought I'd try it out before switching it into road guise, and was pleasantly surprised by how it felt with larger tires on. I then swapped to road tires, but left the flip chips in their gravel configuration, just to see what it felt like. Here too, I was very impressed by how the bike rode. On narrow tires, it felt just as stable and comfortable as on wider gravel tires, and I liked the slowed down handling and feeling of the longer wheelbase.
Finally, fully in road mode, the Echo transformed into a pure road bike. In road mode, it has a 73-degree head tube angle, while the gravel configuration comes in at 72.5. Correspondingly, bottom bracket drop goes from 77.5 to 75mm. It felt intuitive and confident in both guises. I found that you do need to be careful to ensure that the flip chips are fully tightened in place. Mine arrived with one of the rear chips loose.
Compared to some other gravel bikes, the Echo is definitely a speed-oriented machine: the quicker trail dimension means it's not a shreddy gravel bike. But it's really a road bike at heart.
My main issue with the Allied was due to the integrated cockpit—I wasn't able to get the bike to fit me very well, which is a shame because I really enjoyed riding it. Allied sent the bike set up higher and shorter than is ideal for me, and since everything is integrated it wasn't feasible to source the correct length stem and run new hydro lines for our test. For riders who set their position once and don't adjust it, this shouldn't pose a problem, but in the event of a crash or component failure, repairs become unfortunately much more costly to deal with.
With that said, Allied's execution of the integrated cockpit concept is solid—it runs the lines through the steerer tube without needing to run them through the headset. Even though the fit wasn't great for me, I found it handled exactly right and went plenty fast when I put the power down. It feels like a road bike, even with big tires on it, and that's a good thing.
One other thing of note: upon close inspection, the flip chip design is visually a little unsettling—when you look at the fork it appears that something is missing when the chips are in the wide tire setting, and in the rear it looks like a chunk has been taken out of the chainstay. The finishing could perhaps be better in these areas.
Value and rating:
4.5 stars out of 5
I had fun riding the Echo in all three different guises: gravel, road tires in gravel mode, and full on road mode. It's a great-riding bike that gives you options. You can even choose to utilize the flip chips separately, if you're so inclined. For example, leaving the rear in the longer configuration gives the bike a little more stability, like a touring bike, even with narrower tires. For riders who like to tinker and experiment with tire size and handling characteristics or change their setup for different conditions, this feature provides a ton of versatility.
Value-wise, the performance is very good for the price and Allied has produced a bike with a clean, elegant design. Compared to the other bikes tested here the Allied doesn't provide the option of custom geometry, but not everyone wants or needs this, and it does mean the wait is slightly shorter. I personally am not fond of the integrated cockpit and would opt for a standard handlebar and stem if I were purchasing one, but I think it's great that Allied gives customers the option.
If I wanted to own just one bike, and was interested in doing both gravel and road racing, the Echo would be my pick.
Image 1 of 6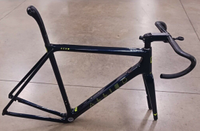 Spotted on eBay:
An Allied Echo frameset, size Medium, with integrated cockpit.
$3100
Argonaut RM3
Argonaut Cycles began in Portland, Oregon in 2007. Founder Ben Farver started out building with steel, but soon shifted his focus to carbon frames—a bold pivot, as he was one of the first small carbon manufacturers in the U.S. This paid off, however, as interest grew rapidly, and Argonaut has been on the forefront of carbon manufacturing techniques ever since, racking up several awards along the way.
Today Argonaut is headquartered in Bend, Oregon and employs not just Farver but 17 other people as well. The company offers two different models: a road bike, the RM3, and a gravel bike, the GR3. Farver has built up an impressive team of designers and engineers who are constantly striving for new and different ways to make bikes, and also how to go about being even better at manufacturing things.
The company does nearly everything in house: it makes its own mandrils, does its own fatigue testing and bases as much of the design as possible around manufacturing and engineering goals. Paint and finishing is also done in house.
Spec: