Tifosi unveil 'lightest production bike' in the world, weighing just 4.6kg for a complete build
Varying carbon compounds and a unique specification makes the Tifosi Mons the claimed "lightest production bike available"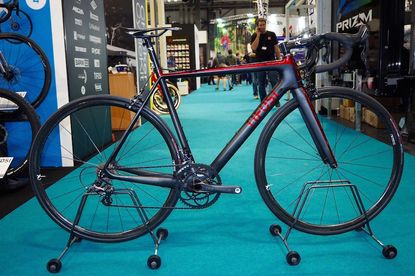 The Tifosi Mons is claimed to be the world's "lightest production bike", weighing in at a claimed 4.6kg for the complete build.
If true, by our books that makes it lighter than the Storck Aernario.2 we reported on at Eurobike, which weighed in at 5.3kg.
According to Tifosi, it wanted to set out to compete with other brand's elite bikes, and the Mons was the end result.
Supposedly, the weight was an afterthought and instead the design brief was always to create a bike that was rideable all day, every day.
Tifosi says that all day ride ability comes from a layup of three different types of carbon – a T1000, T800 and T700 mix.
The T700 adds the strength needed around the bottom bracket area and the head tube, while the T1000 carbon is lighter, stiffer but more fragile.
Fragility shouldn't be a worry, though, as the full bike is fully ISO tested, albeit not UCI approved.
As a production bike, the Mons is available to buy. The frameset alone is £1999, or you can buy a complete, Ultegra R8000 equipped model for £3100.
This particular model comes in at £8999, and for the money you'd get a THM Clavicular carbon chainset, equipped with carbon rings from Fibrelight components, which should, supposedly, last as long as normal aluminium ones. Alongside this, you'd get shifting from Campagnolo Super-Record.
The wheels are a pair of Ax Lightness Ultra 25t tubular wheels which have a combined weight of 790g – nothing less for the world's "lightest production bike".
Ax Lightness also provides the bike's finishing kit, although the brakes are from EE Cycleworks.
Even the paint job is completely customisable through Cole Coating, a London-based paint company, which will make up any colour you desire.
Thank you for reading 20 articles this month* Join now for unlimited access
Enjoy your first month for just £1 / $1 / €1
*Read 5 free articles per month without a subscription
Join now for unlimited access
Try first month for just £1 / $1 / €1