What costs €15,000 and weighs 5.3kg? Marcus Storck's signature Aernario.2
Marcus Storck's signature bike costs nearly €15,000, weighs 5.3kg, and is kitted out with some of the nicest kit money can buy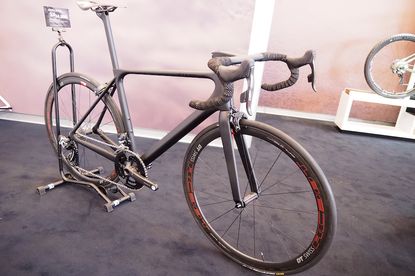 At Eurobike you get to see some beautiful bikes, but Marcus Storck's new signature Aernario.2 frame (and complete bike) takes the biscuit.
The Aernario.2 is an updated frame and fork design for the Storck Aernario, and features slightly different tubing and a more rigid bottom bracket.
The signature concept, however, is slightly more simple. Every year Marcus sets out to create a bike in as many pieces as his age – and this year he turns 53.
He explained that the whole point is to create a bike with no limits, a dream machine kitted out with the best possible kit and the best possible design.
For this reason the fork weighs less that 300g, while the frame, fork and headset together weigh less than a kilogram.
Stiffness is added thanks to the frame only having one join, while the tubing has narrower dimensions and a rigid bottom bracket adds acceleration and speed.
Component-wise, Marcus Storck is running his favourite, and lightest pieces of kit.
That means Storck Powerarms cranks attached to Praxxis chain rings.
SRAM Red eTap makes up the drive chain while the rear derailleur gets CeramicSpeed oversized pulley wheels (as seen in our Tech of the Month).
Stopping duties are taken care of by Fibular's carbon brakes, whose callipers only weigh 80g each.
Anyone who buys the bike gets a choice of two wheelsets, both from DT Swiss. They can either get the German brands RCT38 rims, which are lighter, or a unique, custom rim paired to a Mon Chasseral hub.
The handle bar and stem is unique one piece construction and weighs less than 300g. Oh, and let's not forget the completel carbon Selle Italia C-59 saddle and the fact the whole bike will retail at €14,999.
Thank you for reading 10 articles this month* Join now for unlimited access
Enjoy your first month for just £1 / $1 / €1
*Read 5 free articles per month without a subscription
Join now for unlimited access
Try first month for just £1 / $1 / €1