April's best tech: giant gold jockey wheels, Cav's aero helmet, and more
Check out some of the cycling goodies that we'll reviewing this month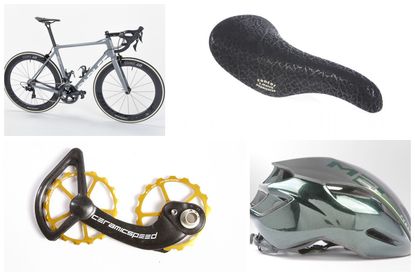 CeramicSpeed oversized pulley wheel system
This month, the bling king that is Oliver Bridgewood brought along some GIANT jockey wheels. As funny as they look, they do actually serve a purpose.
The gigantic wheels have 17 teeth each and are meant to be able to save at least 2.4 watts over a standard rear mech pulley system – that's roughly 10 seconds over a 25mile TT to you or me, which is pretty impressive. It's all down to chain angle, with the whopper wheels meaning the chain is more efficient on it's journey from chain ring to derailleur.
>>> Tech of the month for March
Met Manta CVDSH helmet
For this month, Paul Norman has nicked Mark Cavendish's helmet. Ok, so not the helmet, but a Met Manta from the CVDSH line nonetheless.
It's an aero race helmet in a size large which, according to Paul, is well ventilated and pretty lightweight.
Selle San Marco saddles
Oodles of on bike comfort is the order of the day from Selle San Marco, and this month we've got two of 'em!
The Concor Supercorsa comes in the beautiful original design from the eighties, when it was first made. That's rhino leather it's made from (probably not real rhinos, though) which makes it dead grippy and super comfortable.
The second is the updated version. It's a Selle San Marco Concor Supercomfort. It has dropped sides to relieve any chafing and a big relief channel to help take the pressure off down below. It has a little bit of a wave design for those who like to be stationary on the bike.
Bike of the month: Parlee Altum R Frameset with new Dura-Ace
This beautiful Parlee Altum frame rounds out our tech this month and it's equipped with the Shimano's new, mechanical Dura-Ace groupset.
Thank you for reading 20 articles this month* Join now for unlimited access
Enjoy your first month for just £1 / $1 / €1
*Read 5 free articles per month without a subscription
Join now for unlimited access
Try first month for just £1 / $1 / €1