Does my tyre compound matter?
The lengths manufacturers go to to perfect their rubber suggest there is more to tyre make-up than meets the eye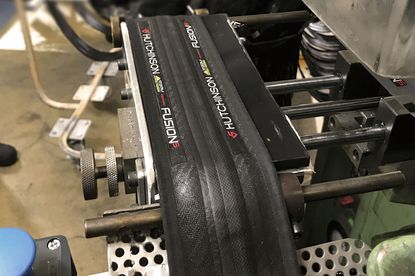 Although you'd expect rubber to be just rubber, tyre rubber is actually made up of around 30 different ingredients which have to be mixed carefully and in the right order for a predetermined time to create the desired compound.
As well as rolling resistance, manufacturers look to ensure that a new tyre will provide grip, durability, puncture resistance and comfort, all in a lightweight package. The formulation of the compound plays a major part in determining many of these properties.
>>> Clinchers, tubulars and tubeless – which tyre system is the fastest? (video)
The rubber at the heart of the compound can be a mix of either natural or synthetic. And natural rubber comes in different grades, with fewer impurities when it's lighter coloured. There may be up to three different grades of rubber in a tyre compound, with different physical characteristics.
As well as the rubber itself, a compound will include sulphur. This cross-links (or vulcanises) the rubber, using pressure, heat and steam to harden it. There will also be different plasticising agents and carbon black added to the mix, which increases wear resistance and longevity.
When French brand Hutchinson brought out its latest Fusion 5 tyre range in early 2016, it initially used a compound it called HDF5. But materials scientists in the company's R&D labs knew they could improve on the compound's physical characteristics.
More like this
Should you always ride with data?

The result was the new ElevenSTORM rubber compound, which Hutchinson has used on all the tyres in its latest Fusion 5 range since May 2017.
Hutchinson uses a range of techniques to create the desired characteristics of a new compound.
Nuclear magnetic resonance scanners, like those used in hospitals, are used to determine the rubber's structure and degree of cross-linkage, while electron microscopy is used to examine the structure, layering and bonding of the rubber layers and X-ray tomography determines the internal structure of the rubber and investigates the effect of wear on the compound.
The results of ageing by ultraviolet light, ozone, heat and water are also investigated, to ensure that a new tyre will continue to perform well over time, while its rheology lab tests physical characteristics and response to mechanical pressures.
Real-world testing
As well as lab tests, tyre companies run real-world tests on new compounds. Before the launch of its latest Power range, Michelin tested the tyre extensively at its outdoor test facility in Clermont-Ferrand, France.
It tested the tyres' rolling resistance against its older tyres and the competition, with test riders covering a 2.75km test track at a constant power.
Michelin also tested the tyres' susceptibility to cyclists' two bugbears — punctures and skidding — using a section of track with wet, sharp gravel. Grip was tested by a rider on an e-bike.
Clad in motorcycle leathers and a full-face helmet, the rider rode in circles on a wet 20m-diameter skidpan to test the tyres' grip to their limits.
Finally, Michelin pushed out its prototype tyres to 200 testers, who rode some 200,000km on the tyres over three continents prior to the launch of the Power range in 2016.
http://www.youtube.com/watch?v=UUwtBDZpooI
Expert take
R&D manager, Hutchinson tyres
"We've taken a radical approach to reformulating our premium road cycle tyre compound in our Innovation and Research Centre, totally revisiting our approach and formulation processes to surpass our goals of better rolling performance, increased grip, and improved longevity.
"On the way, we've developed predictive analysis models, letting us match the theoretical properties in our labs to practical results with our pro teams.
"Hutchinson used its combined experience and knowledge of compound formulation to hit the performance target for its latest generation of rubber. At least 40 formulations were tested by our chemists.
"A specific dedicated compound mixing process has also been developed to get constant optimal mechanical properties combined to a high level of component compatibilisation. These should allow us to further improve our rubber compounds and tyres' performance in the future.
"We are now working hard to extend the new compound ElevenSTORM family to tubular tyres — the first results are already outstanding.
"Hutchinson identified the project to reformulate its tyre compound three years ago and is very proud of the result."
Our take
A great deal of R&D goes into creating a tyre compound and indeed, as is clear from Hutchinson's Stéphane Gonnet's account, the chemists working for the big tyre manufacturers take intense pride in creating compounds with ever-improving rolling resistance, grip, comfort, puncture resistance and light weight.
It's easy to focus on sexier trends like bigger width, tubeless-ready, more aero tread designs and cool-looking tan sidewalls, but with the rubber being the only thing keeping you upright and rolling, tyre compound is literally at the core of your tyres.
Thank you for reading 10 articles this month* Join now for unlimited access
Enjoy your first month for just £1 / $1 / €1
*Read 5 free articles per month without a subscription
Join now for unlimited access
Try first month for just £1 / $1 / €1
Paul started writing for Cycling Weekly in 2015, covering cycling tech, new bikes and product testing. Since then, he's reviewed hundreds of bikes and thousands of other pieces of cycling equipment for the magazine and the Cycling Weekly website.
He's been cycling for a lot longer than that though and his travels by bike have taken him all around Europe and to California. He's been riding gravel since before gravel bikes existed too, riding a cyclocross bike through the Chilterns and along the South Downs.