Tannus tyre company launches anti-puncture insert
Foam insert is an alternative to running tubeless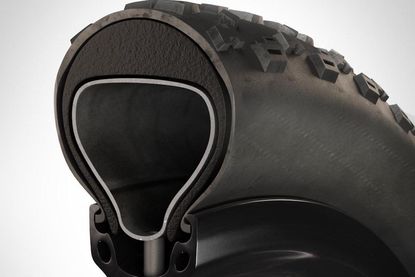 Riding on dodgy surfaces with an inner tube all too often results in time-consuming flats, usually at an inconvenient moment when it's either cold, getting dark or both.
Now Korean brand Tannus, who make "airless" solid tyres to offer a novel solution, aimed at cyclocross and gravel bike riders as well as the long-suffering commuter and mountain bikers.
The Tannus insert, called the Armour, uses a softer, lighter version of the Aither closed cell foam material as its solid tyres, but sits inside a conventional tyre and inner tube set-up. It protects against punctures and also allows the tube to be run at lower pressures, without the risk of a pinch flat.
The profile provides around 15mm of extra thickness at its apex. Twinned with the tyre's tread, this gives around 20mm of puncture-proof padding at the circumference.
The side wall protection extends bead to bead and is around 2mm thick, so adding to protection from pinch flats and sidewall damage. Tannus reckons that tyre pressures can be dropped as low as 20psi. If you do get a flat, the Armour insert also provides the ability to run flat at lower speeds, to get you home.
The Armour insert is available in 700c wheel size, to fit inside tyres of 35mm to 40mm width. There are also 29 inch and 27.5 inch MTB versions.
Tubeless technology has become prevalent both on and off road. It relies on creating an airtight seal between the rim and the tyre beads. Not all tyres and rims are tubeless compatible and even if they are, not all combinations work effectively (although this is becoming less common as the technology evolves).
And sometimes, seating the tyre can be a real faff, the sealant is messy, it needs periodic topping up and often doesn't seal larger punctures effectively. So a tubed option with extra puncture protection is a nice alternative.
In the UK, the Tannus Armour insert will be disturbed by Moore Large. Price is yet to be announced.
Thank you for reading 20 articles this month* Join now for unlimited access
Enjoy your first month for just £1 / $1 / €1
*Read 5 free articles per month without a subscription
Join now for unlimited access
Try first month for just £1 / $1 / €1