Watch live as Hunt Bike Wheels aero tests its wheels
Instagram Live and Facebook Live broadcasts scheduled for Tuesday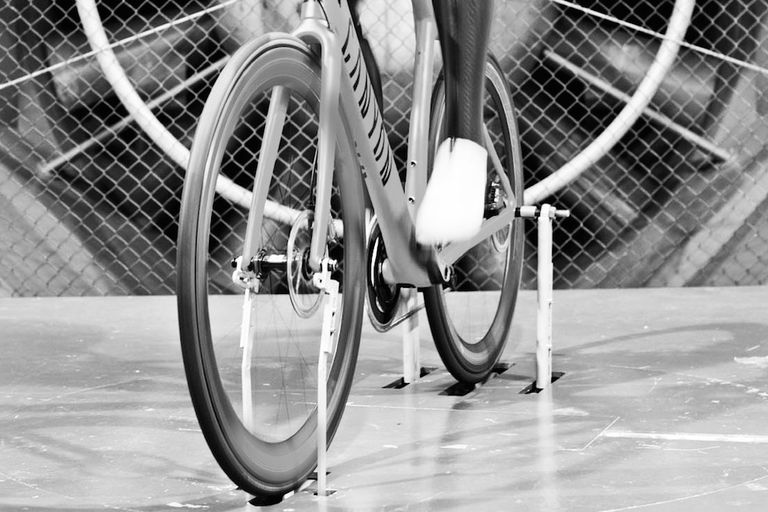 Hunt Bike Wheels is broadcasting live from a wind tunnel test facility in Germany, as it refines the aerodynamics for its disc brake wheelsets.
It's an underdeveloped field. Whereas rim brake wheels have been tested extensively, there's relatively little data on disc brake wheels. But without the need for a braking surface in a specific position on the rim, there's the opportunity to think more radically about rim profile.
>>> Hunt Race Aero Wide wheelset review
Tyre profile and tread pattern are important too. According to Hunt's senior wheel engineer, Luisa Grappone, "The tyre pattern, the width and shape in fact have great impact on aerodynamic drag and even using two different tyres of the same brand model can change the wind tunnel test results when differences in rim shape are small.
"This is why, during the design phase, our focus was not just on the rim shape but also on the global system of the tyre plus rim. We designed our prototype considering a particular tyre model and our aim was to obtain the best aero rim shape around that particular tyre, but we will soon test a wide range of tyre models from different manufacturers and compare the wind tunnel tests results with our selected reference tyre."
So Hunt is taking its wheel prototypes and a set of 28mm Schwalbe Pro One tubeless tyres over to Germany to test them in the Airbus Wind Tunnel. It's the facility used by Canyon to test its frames' aerodynamics and Hunt will be using that brand's frames for its own testing.
>>> What's it like inside a state-of-the-art cycling wind tunnel?
If you want to tune in, these are the links to Hunt's Instagram and Facebook feeds, with live broadcast scheduled for 13:00 and 13:30 respectively.
The aim is to complete a battery of tests, generating the data to allow Hunt to optimise the rim profile for its newest wheels, to be released towards the end of this year. It's also an opportunity to answer any questions that viewers have on what's happening and the company's objectives.