'A year to forget' for Team Sky's Beñat Intxausti
Beñat Intxausti reflects on his forgettable first season at Team Sky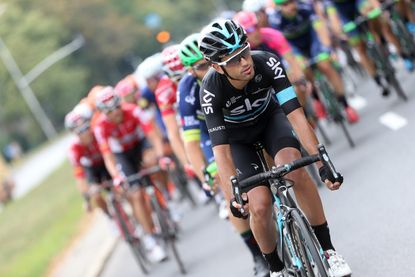 (Image credit: Watson)
Team Sky's Beñat Intxausti called 2016 "a year to forget" after suffering from mononucleosis and racing only 15 days. He joked that his team-mates had trouble recognising him when Team Sky met in Manchester.
The 30-year-old Basque joined the British squad after racing for Movistar, winning Giro d'Italia stages in 2013 and 2015, and placing top-10 in two Grand Tours. He barely saw action in 2016, though.
"It was a year to forget on a sporting level," he said. "But now I'm recovering, I'm on my bike and training."
>>> Team Sky 'sometimes suffers from being far superior'
Intxausti began racing with a series of Spanish races in January and February, but stopped there. He tried to come back in the Tour of Slovenia in June, but that "was rushed a little."
And had to pull out of the Tour of Poland in July and stop completely. That was his 2016 season.
"When I was in Manchester [last month] with the team, they joked with me and said, 'Who are you? The new rider?' They know that I went through a long and hard process," Intxausti said.
"I needed to be with them at that meeting, to look more like a professional cyclist, to get back in the routine, and think about the next season."
Team Sky's new signings Intxausti, Michal Kwiatkowski and Mikel Landa all had mixed fortunes this year.
Landa was sick ahead of leading the Giro team and had to abandon mid-race with stomach problems. Former world champion Kwiatkowski won the E3 Harelbeke, but failed to fly as he had in previous seasons.
The team's Tour de France victory with Chris Froome and his ride in the Vuelta a España, helped them forget about the problems.
Intxausti turned the corner in mid-September. "When the tests came back negative, my mood changed. And from there, I started to improve. A month later we redid the tests and the outcome was still negative. I'm thankful for this last month.
"It's been a tough year, where my head was telling me to do one thing and my body could not. It was tough sitting at home and watching the racing on television, very tough.
>>> 'Like a game of Frogger': your verdicts on the new Team Sky kit
"Seeing my team race well and not being able to contribute was hard. The months were long, but at least I could appreciate the great season Team Sky pulled off. Next year, I want to be there too, with them.
"The team gave me all of its support during the most difficult time, it was really important for me. And it is right that I come back to contribute. It will be like starting from scratch.
"I don't want to think too far ahead, my goal is to get back to racing and to be at a good level again."
Thank you for reading 20 articles this month* Join now for unlimited access
Enjoy your first month for just £1 / $1 / €1
*Read 5 free articles per month without a subscription
Join now for unlimited access
Try first month for just £1 / $1 / €1