Adam Blythe's national champion's jersey has finally been revealed
Adam Blythe gets his hands on one part of his national champion's stash, with his white jersey being delivered in time for the Vuelta a Burgos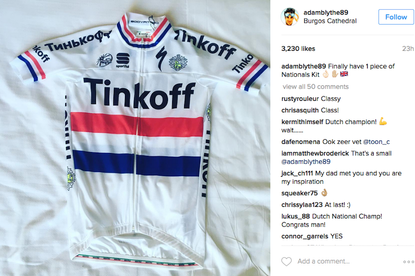 It's been over a month since Adam Blythe beat Mark Cavendish in Stockton-on-Tees to win the British National Championships road race, but the Tinkoff rider has finally got his hands on his brand new jersey.
There has been much anticipation over what design Blythe's jersey would take, with the rider often favouring some pretty bold looks.
But in the end it turns out the kit is actually pretty classy - a traditional white jersey with the red and blue stripes across the chest, with the Tinkoff logo above it.
Somewhat disappointingly Blythe has gone with his blue Tinkoff team shorts, but a message on another Instagram post says the jersey is just one part of his Nationals stash.
Blythe looks pretty chuffed to be riding alongside Alberto Contador at the Vuelta a Burgos with the Brit finishing 120th on the first stage. It's one thing Blythe has got over Contador - the Spaniard has never been national road race champion.
Thank you for reading 20 articles this month* Join now for unlimited access
Enjoy your first month for just £1 / $1 / €1
*Read 5 free articles per month without a subscription
Join now for unlimited access
Try first month for just £1 / $1 / €1