Aqua Blue Sport boss to pay Conor Dunne's Israel Cycling Academy salary for 2019 season
Rick Delaney emphasises he will never return to the sport, and Dunne's support deal is his final act in cycling.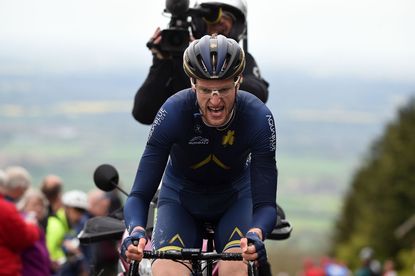 (Image credit: Andy Jones)
Get The Leadout Newsletter
The latest race content, interviews, features, reviews and expert buying guides, direct to your inbox!
Thank you for signing up to The Pick. You will receive a verification email shortly.
There was a problem. Please refresh the page and try again.
Despite being left in the lurch at one point this off-season, Irish road race champion Conor Dunne's 2019 contract with Israel Cycling Academy has been supported by an unlikely source in that of Aqua Blue Sport owner Rick Delaney.
In a letter obtained by CW addressed from Delaney to Israel Cycling Academy, it confirmed that Delaney has agreed to pay Conor Dunne's salary for the 2019 season.
Speaking to CW, Rick Delaney confirmed the legitimacy of the letter.
"Conor was the last rider that I had re-signed for 2019, so I had an obligation to Conor that he had something for 2019. So I've supported his salary for next year. That is me done with all contractual agreements, exactly what I said I would do," Delaney said.
The story of Aqua Blue Sport has been turbulent since a failed merger with Sniper Cycling fell through, which led to the team folding and not fulfilling their ride at the Tour of Britain.
This was then followed by riders claiming they have yet to paid for the remainder of their 2018 contract.
"People have read what they have read and people will obviously believe bad things over good. That's just life, I can't change that," added Delaney.
"The fact of the matter is that every single rider that was under contract has been paid for 2018 and every rider who was under contract for 2019 has either found something else or as in the case of Conor, I have supported."
"That's the world of cycling isn't it, it just confirms why people are getting out, it is just mind blowing but it is what it is and I'm almost out."
>>> 'This lab rat thing is costing results': Aqua Blue Sport boss decries 3T Strada mechanical problem
When asked if he would be tempted to return to the sport at some point down the line, Delaney emphatically ruled out the proposition.
"Never in my nanny would I return after that circus!
"All everybody has written about is how much of a p***k and a bastard that I am. But no-one over the last six months, not one staff member, rider, fan or supporter has said anything positive about the €7 million we contributed to the sport of cycling.
"Absolutely nothing, no-one said jack s**t, all its been is just mud, after mud, after mud. But it's exactly what I thought it was and I'm not going to change anything, but all I can say is gladly I'm nearly out."
Despite never wanting to go back into the sport from an ownership or management stake, Delaney is keen to continue his love of cycling on his terms.
"I will do for sure, obviously with my relationship with [son-in-law] Caleb [Ewan] and go back to being a father-in-law and a fan of cycling. But in terms of being amongst it all, never again, good god no."
Thank you for reading 20 articles this month* Join now for unlimited access
Enjoy your first month for just £1 / $1 / €1
*Read 5 free articles per month without a subscription
Join now for unlimited access
Try first month for just £1 / $1 / €1
Get The Leadout Newsletter
The latest race content, interviews, features, reviews and expert buying guides, direct to your inbox!
Paul Knott is a fitness and features writer, who has also presented Cycling Weekly videos as well as contributing to the print magazine as well as online articles. In 2020 he published his first book, The Official Tour de France Road Cycling Training Guide (Welbeck), a guide designed to help readers improve their cycling performance via cherrypicking from the strategies adopted by the pros.