Andy Tennant tipped for road success in 2018
Track fixture Andy Tennant has been tipped for success by his new Canyon-Eisberg manager Tim Elverson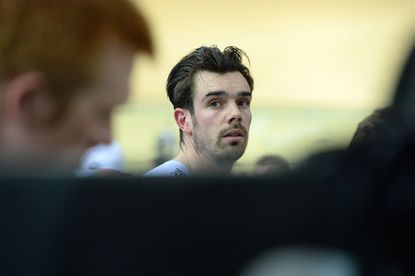 Canyon-Eisberg team manager Tim Elverson is confident that newly signed track rider Andy Tennant can gain some results on the road in 2018.
Tennant, who has been a fixture of Great Britain's pursuit squad for years but missed out on selection for the team pursuit squad at the last two Olympics, signed for Canyon-Eisberg from Team Wiggins over the winter.
>>> 100 Best Road Riders 2017: Full countdown
Elverson told CW: "Tennant is itching to get out there, he's still getting picked by GB for World Championships and Commonwealth Games, he has just done his best sprint numbers and you might see a few results out of him [on the road]."
"I think he's got buckets to give. He's not afraid to get his elbows out and he's got a sprint that's no embarrassment on any level.
"I think he's hungry. He's been effective for Chris Latham [at Team Wiggins] as the last man at a couple of races; he's got his own hunger and desire to get his own results as well."
Elverson pointed to Tennant's previous road results, which include victories at the Wiltshire Grand Prix in 2015 and the Tour of the Reservoir in 2009, arguing that he was capable of big wins in 2018.
http://www.youtube.com/watch?v=4MZnliChhNs
He said: "He's not done anything amazing [recently] but he won Wiltshire three years ago. He's got form and wins on the road and if you remove Chris Opie and Harry Tanfield he's probably got more wins than any other people on the team."
Elverson said Tennant was a rider that he had always admired and his move from Wiggins followed fairly swiftly after the pair began speaking at a race last year: "I immediately thought this is someone I can help get the results he wants.
"I like what he does, the way he conducts himself, and I just asked if he was interested in moving. He said he had liked the team for a while and the races we were doing. We got on pretty well straight away. He was the type of rider I was looking for — he's a professional."
Elverson said that as well as providing sprint options for the team, Tennant was keen to race in Europe — a major part of the Fleet-based team's programme.
Thank you for reading 20 articles this month* Join now for unlimited access
Enjoy your first month for just £1 / $1 / €1
*Read 5 free articles per month without a subscription
Join now for unlimited access
Try first month for just £1 / $1 / €1