Matt Bottrill wins fourth round of National Time Trial Series
British time trial round-up (May 17-18): News and results from around the UK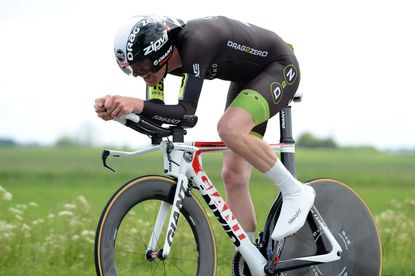 Defending champion Matt Bottrill (www.drag2zero.com) wrapped up his fourth National Time Trial Series senior title with one event to go by winning Sunday's fourth round in Berkshire.
On the warmest day of the year, the Leicestershire postman covered two laps of the Southend-Bradfield circuit, a distance of 31.2 miles, in a course-record 1-08-36 to secure his fourth win in as many starts and an unassailable lead in the competition which goes on to the back burner now until the final round in September.
Bottrill led by exactly half a minute after the opening lap from Matt Clinton (Mike Vaughan Cycles), winner of the third round when Bottrill was absent, who took second place in 1-09-54 and was also inside the previous course record held by Danny Axford (Arctic Tacx RT) who took third place in 1-22-30.
"That was a real race on a hard, demanding circuit, and with the heat, I felt I was in an oven," said Bottrill. "I knew it was going to be hard within the first few miles, it's been a massive week of training for me as I push on towards my goal races, but I got stronger as the event went on and I'm very pleased to have taken the win and the series."
The women's title was also decided as Dame Sarah Storey (Pearl Izumi Sports Tours International) claimed her fourth victory of the series in 1-17-24, well ahead of Emily Robertson (Glendene CC) who climbed from fourth at halfway to finish second in 1-22-26.
Storey's team-mate Katie Archibald was lying second, just 17 seconds down, after the first lap but punctured and ended up in fourth place.
James Falconer (Ferryhill Wheelers), 1-17-37, made it five junior wins from five, while Steve Berry (Arctic Tacx RT) added to his first-round veterans win in 1-16-03 ahead of Geoff Platts (MG Décor) whose 1-17-09 gave him his second successive victory on age-related target time by a decisive six-minute margin.
David McGaw (Cambridge CC) made the most of the good weather to win Eastern Counties CA 50-mile event along the A11, in Cambridgeshire and Suffolk, in 1-42-57, beating Russell Kober (Hainault RC) by 57 seconds.
Three seconds separated winner Scott Burns (Manchester Wheelers), 50-18, and Charles Taylor (South Pennine RC) in the Stone Wheelers '25' between Blythe Bridge and Uttoxeter, with Mark Turnbull (TOEQ Performance) a close-up third in 50-29.
Dean Robson (Somerset RC) continued his good form with a winning 52-32 in Newbury RC's '25' at Aldermaston, getting the better of the promoting club's Ian Greenstreet by 17 seconds.
A course-record 20-09 gave Stave Walkling (VC St Raphael) victory by 23 seconds over team-mate Greg Parker in the Andover Wheelers '10' on the Andover bypass.
The fastest '10' of the weekend came from Kieron Davies (Team NBCC) with 19-44 in the VTTA South Wales event at Abergavenny, giving him victory by 23 seconds over Luke Dix (Cardiff JIF).
Thank you for reading 10 articles this month* Join now for unlimited access
Enjoy your first month for just £1 / $1 / €1
*Read 5 free articles per month without a subscription
Join now for unlimited access
Try first month for just £1 / $1 / €1
Snowdon Sports is a long-established independent sports news agency, which supplies editorial to a range of media outlets - such as Cycling Weekly - as well as sports governing bodies. Snowdon Sports often covers results at Cycling Time Trials events in the UK and has long been a source of information and imagery to Cycling Weekly.