Death Star Mk.2? Team Sky reveal massive new mobile 'Race Hub' to travel round Vuelta a España
Let's hope the hotel car parks are big enough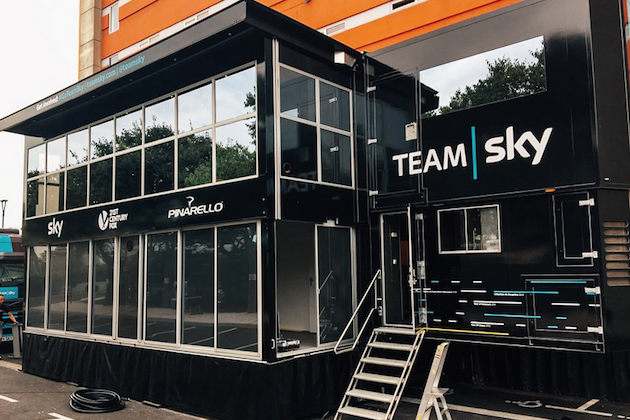 (Image credit: Team Sky)
If one team can manage to attract attention for the vehicles they turn up with in races, it's Team Sky.
First we had the 'Death Star' team bus with its science fiction sliding glass doors and extra storage for riders' mattresses, then Richie Porte's legendary motorhome, which was actually banned by the UCI.
Now the team has taken things to the next level with the new 'Race Hub': a mobile control centre that can be unpacked from the back of a truck.
Team Sky will be trialling the new facility at the Vuelta a España, describing it as "a new flexible space for riders and staff that can be used on race in a variety of different ways - for example communal eating, team briefings and pre and post-race relaxation. It can also be used for guest hospitality and media."
Most other teams travel with a large truck, usually containing cooking facilities just in case the hotel kitchen isn't up to scratch, but Sky's new vehicle certainly takes things up a notch, with Dave Brailsford saying that it will be used by staff as much as riders.
"This is not just about the riders but also the team behind the team who work from dawn long into the night to help them perform at their best," Brailsford said.
"The nature of our sport inevitably involves thousands of kilometres of racing, constant travel between stages, ever-changing hotel accommodation and long hours. We know how much all our people give to the team and the sacrifices they make.
"As a result we have become increasingly focused over the past year on the need to provide our staff with an environment where we can look after them even better - a space where they can relax more easily, eat and be briefed together. Rest and recovery are obviously every bit as important as training for performance."