Former Movistar pro opens up about suicide attempts
Now retired Gutierrez says he's speaking about his issues to help others who suffer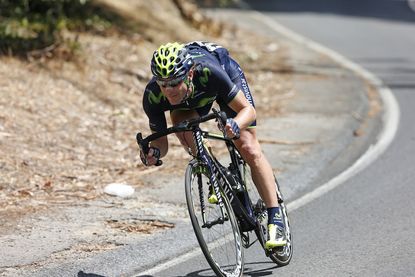 (Image credit: Yuzuru SUNADA)
Former Movistar cyclist and Spanish champion Iván Gutiérrez says that he was plagued by depression and tried to kill himself 11 times.
Gutiérrez began with team ONCE and switched to IBanesto, which became team Movistar, in 2002. He rode 15 Grand Tours, the final ones in 2013, when his depression worsened.
>>> Graeme Obree: why we need to talk about depression in sport
"In March of 2013 was the first time I tried to hurt myself," he told La Cope. "I did not know what was going on in my head, but it was not right.
"Cycling is a very difficult, stressful sport, and there came a time when I felt something was not working."
The 38-year-old began his grand tour career working for Laurent Jalabert, continued with Alejandro Valverde and ended it when Nairo Quintana made his debut in the 2013 Tour de France.
"I quit the Tour that year due to a mental collapse, in panic," he explained. "In the Pyrenees, I got off the bike. I just wanted to disappear from the race and the map."
He rode through the 2014 season, finishing 16 years as a professional cyclist with a DNF in the Eneco Tour.
"Many times I wished I crashed into a wall and broke 30 bones, that'd be better than dealing with a mental problem," he said.
"When I retired, I was worse. I spent weeks without getting out of bed and they would not leave me alone for fear that I'd abuse my medication.
"I've had 11 admissions for suicide attempts. I took all the pills I had at home. They could not leave me alone because of a risk that I'd hurt myself."
Gutierrez speaks about his problems now to "help those who also suffer."
He began to collaborate and talk with his local football club in Cantabria, Racing de Santander.
"You have to know is that this exists, but they think that these people are crazy," he said.
"I help football teams, going into the locker room is helping me to heal. It's my best antidepressant pill.
"I tell the players, 'You don't know what I'd pay to play a match at el Sardinero.' Many would kill for being there.
"I'm not paid, but just being there and seeing the flat grass pitch is soothing... What more can I ask for? That's my best medicine."
The time trial specialist won Spain's national title four times. He took the road title in 2001 and in 2010.
Thank you for reading 20 articles this month* Join now for unlimited access
Enjoy your first month for just £1 / $1 / €1
*Read 5 free articles per month without a subscription
Join now for unlimited access
Try first month for just £1 / $1 / €1