Ghent-Wevelgem's new muddy 'semi-paved' roads should cause absolute chaos (video)
Belgian race pays tribute to Christmas Truce with new Plugstreet diversion.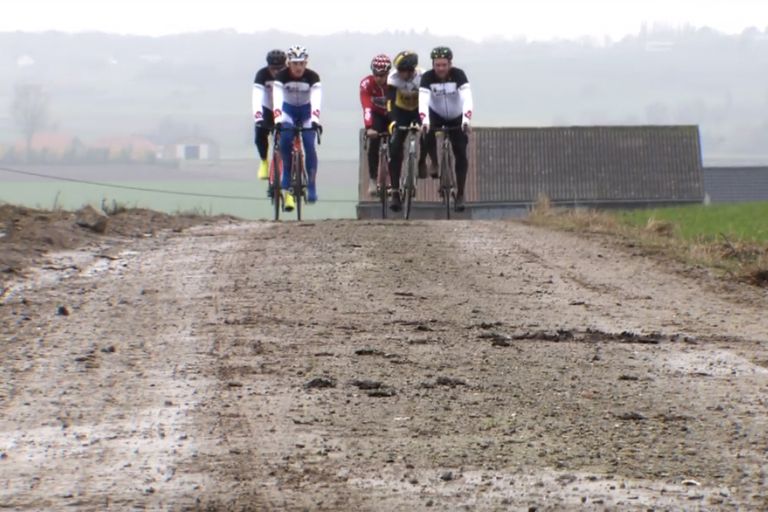 Ghent-Wevelgem will present riders with a new challenge in 2017, as it commemorates the Christmas Truce of 1914 in World War One.
The race will take a detour to tackle the in the "Plugstreets" around the village of Ploegsteert in western Flanders, narrow, semi-paved roads that could cause chaos in the bunch if they are covered with mud on race race.
>>> Iconic places: The Kemmelberg in Ghent-Wevelgem
There will be three sections of Plugstreet in quick succession within a 5.7km section towards the sharp end of the race.
The first is probably the most testing, being 2.1km long and steadily rising along its length including a tight chicane that could be particularly treacherous in the wet.
Watch: 10 best road riders of 2016
A monument to the Christmas Truce 1914, where soldiers stopped fighting and came out of their trenches to exchange gifts and play football, is situated at the start of the second section, which is shorter and flatter than the first.
However, seeing as this was nicknamed "Mud Lane" during World War One, we should certainly see some exciting racing.
>>> Which WorldTour team has the best kit for 2017?
This section of the race will come with about 60km remaining, which in the eyes of race organiser Hans De Clercq, will make for a tougher and more entertaining racing.
"Integrating this section between the two Kemmel climbs will provide additional nervousness. There will be less opportunity to recover. The competition will not be 'won' here, but the chaff will be further separated from the wheat."