'I don't like sitting in the bunch waiting to get dropped': Roche looking to animate Giro d'Italia with GC ambitions
The Irishman will jointly lead BMC with Rohan Dennis in his return to the Giro d'Italia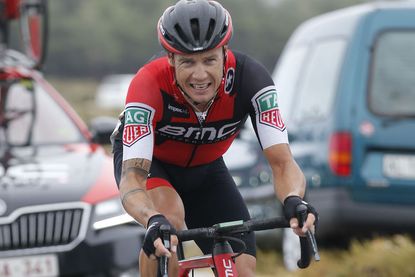 (Image credit: Yuzuru SUNADA)
Nicolas Roche will mark a return to the Giro d'Italia from Friday as a self-purported "Plan B" with BMC Racing that has purposefully disrupted the Irishman's race schedule this season.
In his 14th year as a professional, Roche has a general story that is well documented.
>>> Giro d'Italia 2018: Seven key stages that will decide the race
He's the son of a famous cyclist who, despite spending almost every day of his childhood competing in other sports, eventually followed in his father's footsteps.
Turning professional with Cofidis, the year after the French team was embroiled in a doping scandal, Roche has literally ridden through cultural and generational change.
"They [Cofidis] had that troubled year in 2004 and there was a lot new things - internal tests - that came in 2005 as a consequence," he recalls.
"I arrived in this professional world and my first training camp I do all these DNA tests, get my hair cut to see if I was on the party drugs, physical tests too, see a psychologist three times a year.
"It's not easy seeing a psychologist at 20 when you think you're perfectly healthy."
Fast-forward through nine professional victories including two Vuelta a España stage wins, consistent stints as road captain, Grand Tour domestique to now and the 33-year-old is still learning and learning to adapt.
The peloton is more competitive, younger riders take risks that Roche now considers "painful", and top-15 results don't guarantee job security.
As RCS Sport charters new territory, taking the Giro to Israel and outside of Europe for the first time, so too will Roche in his career 19th Grand Tour.
The climber in the past has eased into typically long seasons with a view to the Tour de France and Vuelta a España, so was initially reluctant about being called to compete first and maybe foremost at the Giro, which his father, Stephen won in 1987.
"There was no conversation, I got a phone call saying you're riding the Giro. The first reaction was, 'Oh,' and then second reaction was, 'That's alright, I'll prepare for the Giro,'" Roche says.
"I haven't ridden the Giro in a while but I haven't ridden the Giro for GC more importantly, so it's new for me to aim for a race so early in the year.
"In both cases I know it will be good for later on in the year anyway. As in, if I ride the Tour, I know I can perfectly ride the Giro and the Tour and be stronger again. If not, I'll ride the Vuelta afterwards and know I have a good base to go into that."
Roche last competed at the Giro with Sky in 2016 where he finished 24th overall. He has flagged a top-10 as an ideal result ahead of the 101st edition in which he'll pair with eager Australian Rohan Dennis.
"I'm on him this year a little bit," says BMC Racing sports director Max Sciandri.
"I get on really well with Nico. There are a lot of variables in his character, how he is.
"Before proving something to the team, I think it will be a good thing if he proves something to himself. At this point in his career, it would be good to get a result. That's what he has in the Giro, a possibility to go for that."
Dennis, who is a favourite for the opening time trial stage in Israel, arrives on different terms as he makes concerted efforts and advances toward a career as a Grand Tour contender.
"I am going to keep the two guys simple, separate," Sciandri says.
"I don't like to work with big lead-outs, like [Chris] Froome has his whole team lined out, or like Richie [Porte] will in the Tour. I keep it low-key in a way that I sign a couple of people to riders, so Rohan will have one or two guys, Nico will have one or two, and after five or six stages we'll have Etna."
The general tactical approach should suit Roche's sensibilities.
"At the end of the day nothing beats your own victory but I get a lot of satisfaction from playing a part in the race. I don't like sitting in the bunch and waiting to get dropped," he says.
"A lot of the riders, or the teams, are like that but fair enough. The way modern cycling is now it's more about following as long as you can than trying to do something.
"Don't be surprised, you're watching us on TV, you know that," he adds with authority.
"It's big teams that put their tempo down and play their cards. It doesn't mean they win the race but tactically now it's about following the strongest team."
How BMC plays it remains to be seen.
Thank you for reading 20 articles this month* Join now for unlimited access
Enjoy your first month for just £1 / $1 / €1
*Read 5 free articles per month without a subscription
Join now for unlimited access
Try first month for just £1 / $1 / €1